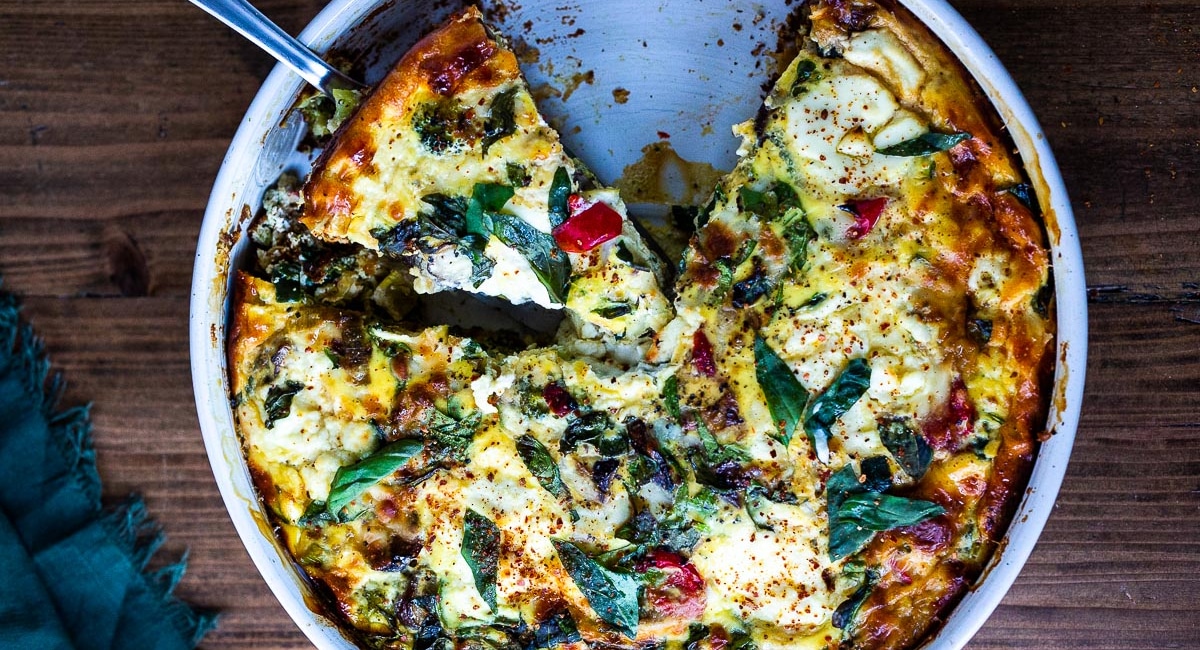 Read
Baked vegetable frittata
Breakfast, lunch or dinner, this oven baked vegetable frittata is delicious. Packed full of healthy vegetables, it's an easy and versatile recipe that you can make ahead of time.
The great thing about a frittata is that you can make it using any leftover vegetables from the fridge, so it's a low-waste meal. We used broccoli, onion, capsicum and mushrooms in this recipe, but you can substitute almost any other vegetable into your frittata.
This baked vegetable frittata recipe is suitable for vegetarians, it's keto friendly, gluten-free and low carb. Enjoy!
Prep 35 minutes
Cooking time 60 minutes
Serves 8-10
Ingredients
500g broccoli
1 onion or leek, diced
1 1/2 tbsp olive oil
1 red capsicum, diced
225g mushrooms, sliced
12 large eggs
1 cup ricotta
1 cup heavy cream
1/2 tsp salt
1/2 tsp pepper
1/2 cup fresh basil
1 1/2 cups baby spinach
2 cups mozzarella cheese
Method
Preheat oven to 180C.
Make the vegetable filling: Cut broccoli into small florets and steam until just tender, let cool. At the same time, sauté the onion or leek in olive oil, 3-4 minutes, over medium heat. Add capsicum and mushrooms and season with salt and pepper. Keep sautéing until tender.
Make the custard: While vegetables are cooking whisk eggs with ricotta, cream, salt and pepper.
Assemble the frittata: Grease a deep 23cm x 33cm baking dish or 30cm skillet. Pour 1/2 of the egg mixture in the bottom. Add cooked vegetables. Add basil, spinach and cheese and pour in the remaining egg mixture. Give vegetables and swirl so egg mixture is incorporated.
Bake in the middle of the oven until the centre is puffed and the frittata is nice and golden, about 1 hour. Check at 30-40 minutes and tent with foil if getting too dark. (The frittata is done when it puffs slightly at the centre and is not too wobbly).
Allow to rest for 5 minutes before serving.
Nutritional Information (per serving)
Calories: 339; Fat: 23.4g; Saturates: 11.4g; Fibre: 5.6g; Protein: 21.3g; Sodium: 511.8mg; Carbs: 12.2g
Written by
Calista Bruschi
When she's not moulding Play-Doh or dancing in the living room with her children, Calista Bruschi is an editor and writer. She has oodles of experience working on newspapers, magazines and websites. Calista likes to organise and be organised. She loves being a mum, Italian food, wine, sport and stationery. She hasn't sleep a full night in more than five years and is powered by coffee.