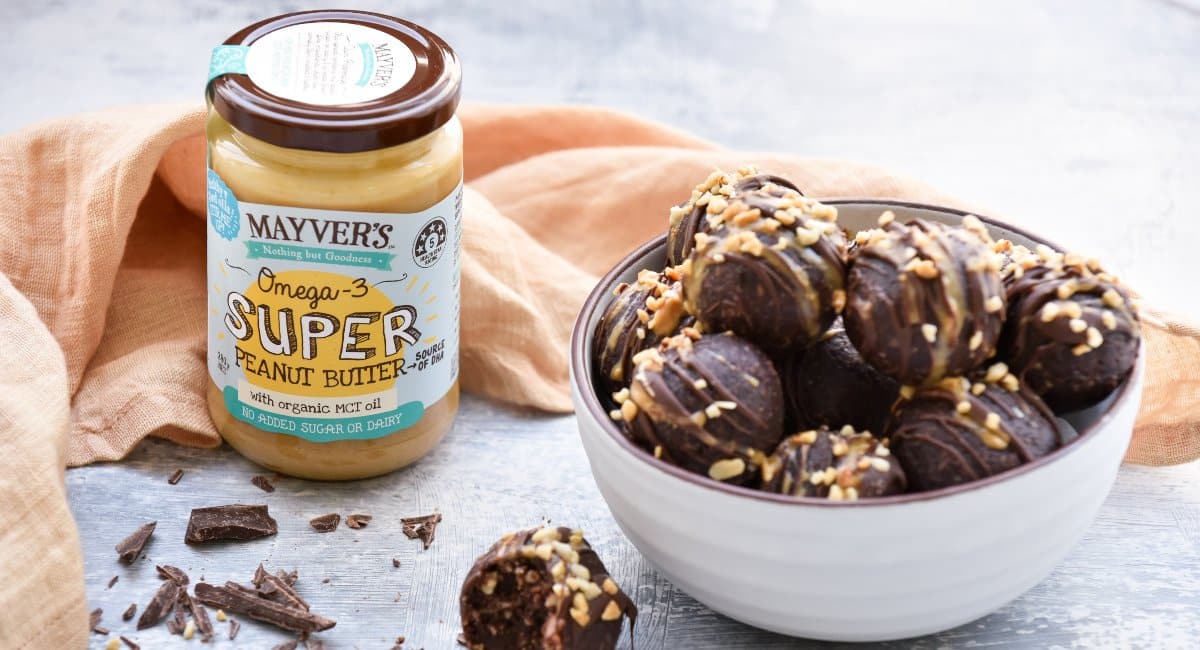 Read
Cacao Peanut Butter Protein Balls
Did you know July 7 was World Chocolate Day? Amazing!
Leading dietitian and nutritionist Susie Burrell says you can create tasty healthy chocolate treats with your kids, with 'better-for-you' alternatives found in your pantry. To prove the point, the Mayver's ambassador challenged us to create these delicious cacao peanut butter protein balls.
"It's preferable to keep healthier chocolate alternatives such as cacao powder on-hand for baking," Ms Burrell says. "Cacao powder is essentially chocolate at its purest form, it's relatively unprocessed and is packed with flavonoids that support heart, brain and whole-body health by promoting healthy blood flow."
These protein balls store in the refrigerator for up to one week.
Time 30 minutes
Serves 10
Ingredients
1/4 cup Mayver's Omega 3 or Probiotic Peanut Butter
450g cashews
15 dates, pitted
3 tbsp cacao powder
2 tbsp protein powder
2 tbsp maple syrup
40g coconut oil, melted
20ml filtered water
2 tbsp extra peanut butter to drizzle (optional)
Method
Place peanut butter, cashews, dates, cacao powder, protein powder and maple syrup into a food processor and blitz until the mixture becomes sticky and nuts are small particulates.
Add coconut oil and filtered water and blitz until the mixture comes together, ensuring there is still texture.
Roll mixture into balls of your desired size. Drizzle with Mayver's peanut butter.
Enjoy!
Nutritional Information (per serving)
No nutritional information available.
Written by
Calista Bruschi
When she's not moulding Play-Doh or dancing in the living room with her children, Calista Bruschi is an editor and writer. She has oodles of experience working on newspapers, magazines and websites. Calista likes to organise and be organised. She loves being a mum, Italian food, wine, sport and stationery. She hasn't sleep a full night in more than five years and is powered by coffee.