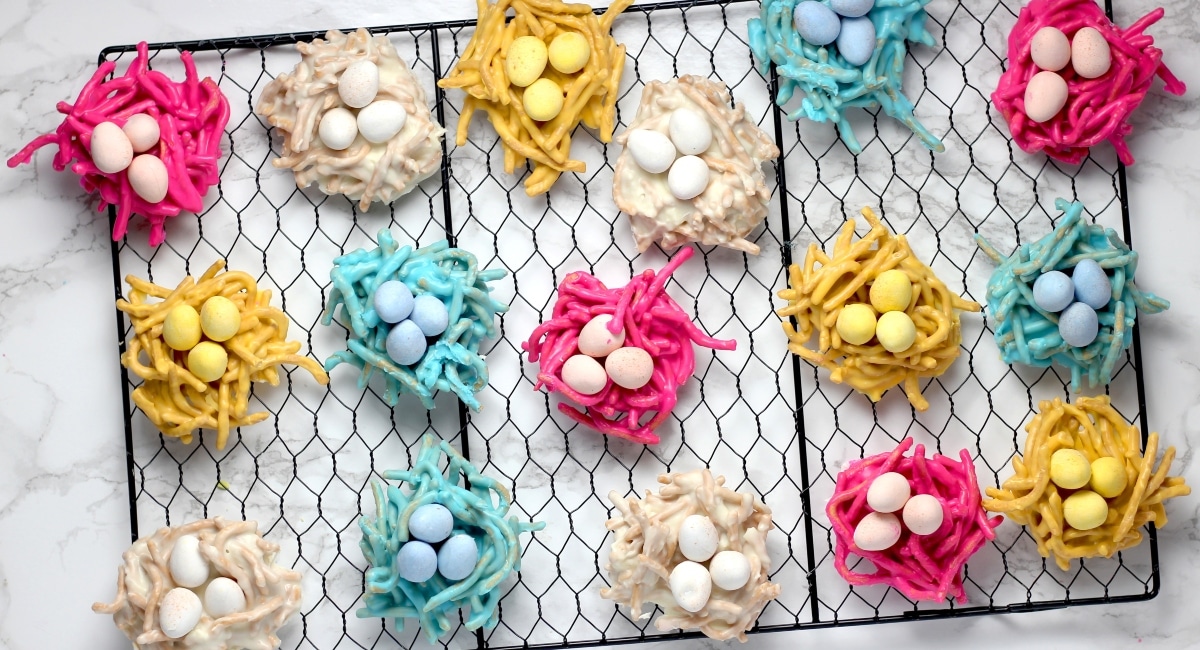 Read
Chocolate nests
Get excited about Easter with these fun chocolate and coconut nests.
Recruit handy little helpers to make these fun chocolate Easter nests. The recipe is very easy to make and is a great activity (adult supervision is needed for melting the chocolate).
The white chocolate nests are delicious treats.
Make sure you are using a good quality white chocolate. Avoid white chocolate chips unless you know for sure that it is a good quality brand. White chocolate should have a yellow tint to it and easily melt when touching.
You can easily make these as outlined below or you can add food colouring to the mixture when you mix with the noodles and coconut. These will give you brightly coloured nests, which are quite fun.
Prep 40 minutes
Makes 20
Ingredients
200g white chocolate, chopped
100g packet Chang's Original Fried Noodles
1/2 cup (40g) shredded coconut, toasted
60 M&Ms Speckled Eggs
Method
Line a baking tray with baking paper. Place chocolate in a heatproof bowl over a saucepan of simmering water. Stir with a metal spoon for 5 minutes or until chocolate melts and mixture is smooth.
Remove from heat. Add fried noodles and coconut and stir to combine.
Use 2 dessert spoons to arrange the chocolate mixture into small mounds on the prepared tray. Create a small hollow in the centre of each mound. Place 3 eggs in each hollow.
Place in the fridge for 30 minutes or until set. Store in an airtight container.
Nutritional Information (per serving)
Calories: 249kcal
Written by
Calista Bruschi
When she's not moulding Play-Doh or dancing in the living room with her children, Calista Bruschi is an editor and writer. She has oodles of experience working on newspapers, magazines and websites. Calista likes to organise and be organised. She loves being a mum, Italian food, wine, sport and stationery. She hasn't sleep a full night in more than five years and is powered by coffee.