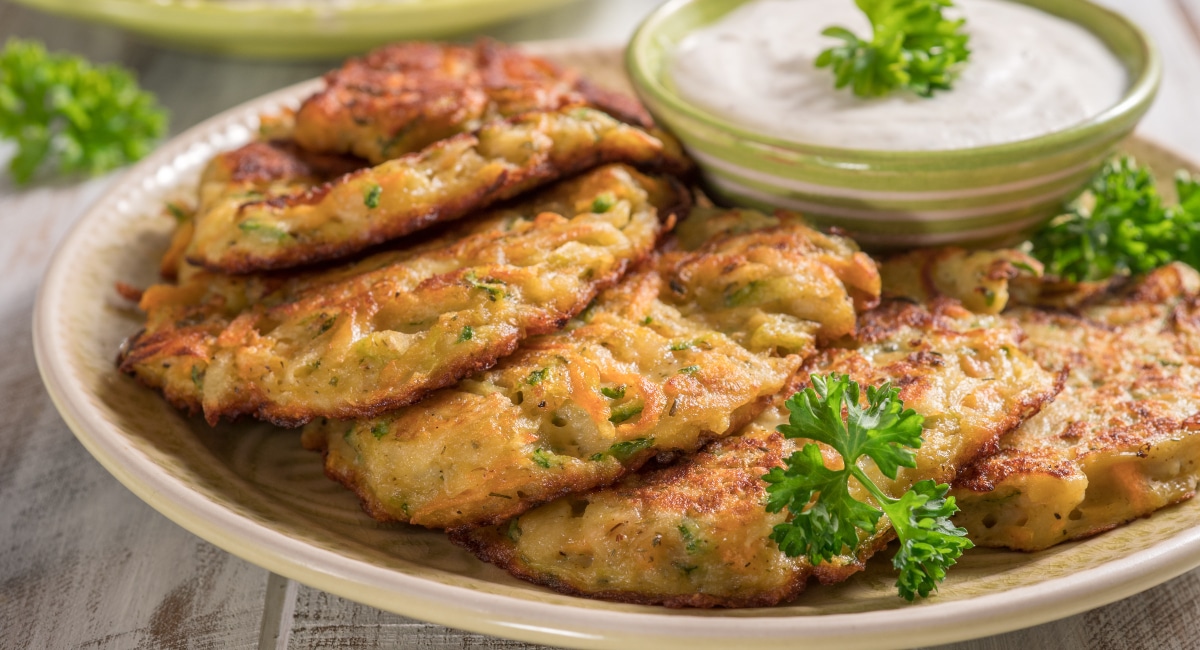 Recipes
Crispy vegetable fritters with a tangy cucumber yoghurt
These crispy vegetable fritters would have to be one of the easiest meals we've made recently. They're also a perfect meal if you are cooking on a budget. The majority of these ingredients can be found in your fridge or pantry, fried up with a simple batter and served with a delightful yoghurt-based cucumber sauce.
Fritters are a simple, delicious and an excellent way of using up any leftover vegetables so they don't go to waste.
Prep 20 minutes
Cooking time 10 minutes
Makes 12-16
Ingredients
2/3 cup wholemeal self-raising flour
1 tbsp Cajun spice mix
5 eggs, lightly beaten
1/2 cup grated tasty cheese
420g can (no-added-salt) four-bean mix, drained
1 large carrot, grated
2 medium zucchini, grated
4 green shallots, thinly sliced
2 tbsp olive oil, for pan-frying
100g parsley (optional) and lemon wedges, to serve
CUCUMBER YOGHURT
1/3 cup creamy Greek yoghurt
1 small Lebanese cucumber, finely diced
1 tbsp chopped fresh mint
1 tbsp lemon juice
1/2 tbsp ground cumin
Method
Place flour in a large bowl. Add spice mix and eggs. Stir to make a thick batter. Add cheese, beans, carrot, zucchini and shallots. Season with pepper. Stir until well combined.
Heat a lightly oiled, large, non-stick frying pan over a medium heat. Add a generous 1/4 cup of mixture, spreading to make an 8cm fritter. Repeat to make three more. Cook for about 3 minutes on each side, or until golden brown. Transfer to a tray. Cover with foil to keep warm. Continue with remaining mixture to make 12-16 fritters in total, lightly re-oiling pan between each batch.
To make tangy cucumber yoghurt, combine all ingredients in a small bowl.
Serve warm fritters with cucumber yoghurt, parsley and lemon wedges.
Nutritional Information (per serving)
None available for this recipe.
Written by
Calista Bruschi
When she's not moulding Play-Doh or dancing in the living room with her children, Calista Bruschi is an editor and writer. She has oodles of experience working on newspapers, magazines and websites. Calista likes to organise and be organised. She loves being a mum, Italian food, wine, sport and stationery. She hasn't sleep a full night in more than five years and is powered by coffee.