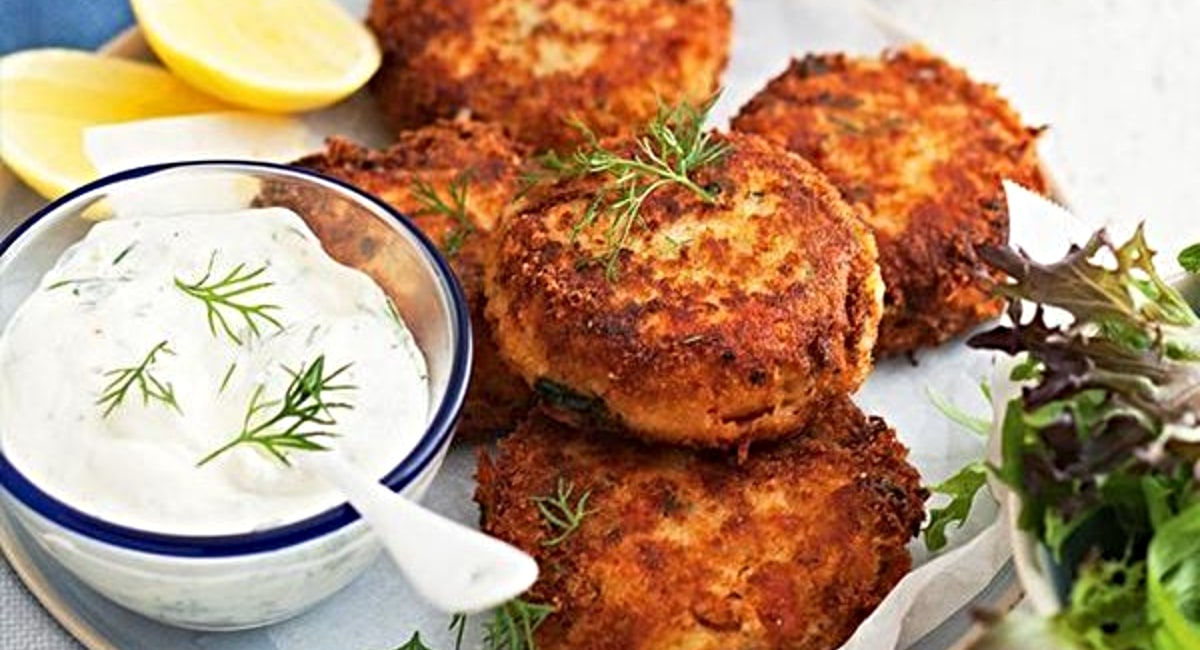 Read
Crumbed salmon, lemon and dill patties
A crunchy breadcrumb coating and a tasty filling make these salmon, lemon and dill patties perfect for any occasion.
We recommend serving them with a green salad and some homemade chips. If you want to 'up your game' make burgers using the salmon, lemon and dill patties and combine it with a crusty bun, some salad staples (we'll leave the beetroot and pineapple up to you) and tartare sauce. Yum!
Not only is this recipe good for you, but it's also freezer-friendly. Pop the leftovers in a zip lock bag or airtight container and store for up to three months. It's a good back-up for those days when you need a break.
Prep 30 minutes
Cooking time 30 minutes
Serves 4
Ingredients
800g desiree potatoes, peeled, halved
415g can pink salmon, drained, skin and bones removed
3 green onions, trimmed, finely chopped
2 tbsp finely chopped fresh dill
1 tsp lemon rind
1 tbsp lemon juice
2 eggs
1/2 cup plain flour
1 1/4 cups dried panko breadcrumbs
Vegetable oil, for shallow frying
Method
Put potatoes in a saucepan. Cover with cold water. Bring to the boil over high heat. Boil for 15 minutes or until tender. Drain. Return to pan over low heat. Toss until excess liquid has evaporated. Mash potatoes. Place potato in a bowl.
Stir in salmon, green onion, dill, lemon rind, lemon juice and 1 egg. Season. Using wet hands, shape into 12 patties.
Place flour and breadcrumbs in separate shallow dishes. Lightly whisk remaining egg and 1 tablespoon cold water in shallow dish. Coat patties in flour, shaking off excess. Dip in egg mixture. Coat in breadcrumbs. Place on a tray lined with baking paper.
Heat oil in a large non-stick frying pan over medium heat. Shallow-fry patties for 5-6 minutes each side until golden and crisp. Transfer to a plate lined with paper towel.
Serve.
Nutritional Information (per serving)
Calories: 549; Energy: 2,298kj; Fat: 17.1g; Saturates: 3.5g; Fibre: 5.6g; Protein: 31.7g; Sodium: 515mg; Carbs: 62.8g
Written by
Calista Bruschi
When she's not moulding Play-Doh or dancing in the living room with her children, Calista Bruschi is an editor and writer. She has oodles of experience working on newspapers, magazines and websites. Calista likes to organise and be organised. She loves being a mum, Italian food, wine, sport and stationery. She hasn't sleep a full night in more than five years and is powered by coffee.