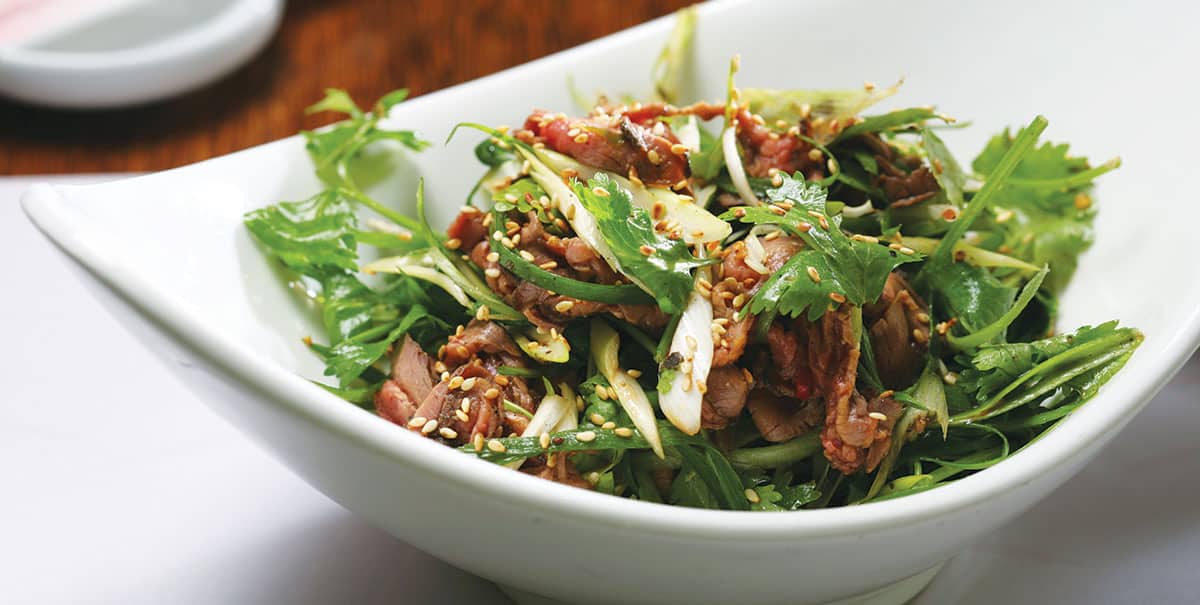 Recipes
Family Thai Beef Salad
After the indulgences of Christmas, January is the time for a refreshing salad!
Simple, healthy AND delicious, this Thai Beef Salad is the perfect family meal this summer.
THAI BEEF SALAD INGREDIENTS
Marinade
2 garlic cloves, minced
1 tbsp palm sugar
1 tbsp fish sauce
2 tbsp sesame oil
1 tbsp soy sauce
1 tbsp ginger, minced
Corianders stems, finely chopped
1 kaffir lime leaf, finely chopped
1 lime, juiced
Meat
2 tbsp vegetable oil
500g stir fry beef strips
Salad
1 bunch coriander
1 bunch mint
1 bunch Thai basil
4 long red chillies, sliced diagonally
1 cucumber, deseeded & sliced diagonally
1 small red onion, thinly sliced
Mixed lettuce leaves
1 tsp sesame seeds (to garnish)
METHOD
Combine marinade ingredients except lime juice in a large bowl. Ensure that palm sugar is broken up and fully dissolved.
Add beef and combine well, ensuring marinade is evenly distributed. Set aside for 10 minutes.
Pour lime juice over marinating meat to tenderise and mix in. (Combining it in marinade will overcook the meat.)
Combine herbs and vegetables in a large serving bowl. Gently take apart leaves and toss. Deseed chillies to reduce spiciness.
Heat 2 tbsp of oil in a pan over high heat.
Sear beef strips for 30-40 seconds, stirring well to cook evenly. Transfer to plate and set aside to cool for a few minutes.
Stir beef so strips are well coated with marinade. Pour liquid over the salad, then place beef strips on top.
Garnish with sesame seeds.
Serve immediately.
Recipe courtesy of Fresh Meats: (07) 5451 0522 | www.freshmeats.com.au
86 Wises Road, Maroochydore QLD 4558
Now delivering fresh home-cooked meals, meat packs and groceries to your door
---
RELATED:
Want home delivery of fresh, ready-made family dinners? Yes please!
Crazy Noodle Veggies Recipe
Written by
kidsonthecoast