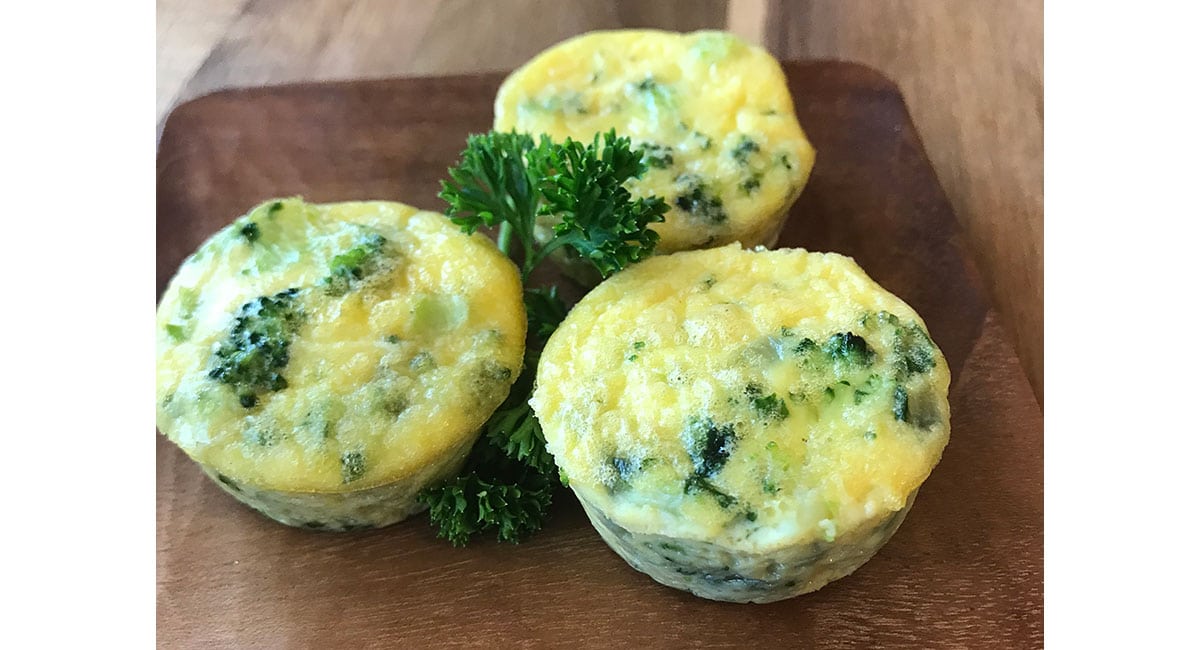 Recipes
Baby Broccoli Egg Pies
These baby broccoli egg pies are super easy to prepare and bake! Quick and nourishing, they are the perfect bite-size snack and ideal for school lunchboxes.
Ingredients
1 tin of coconut cream
10 eggs
¼ teaspoon salt
1 cup finely chopped red onion
1 cup finely chopped broccoli
¼ cup of finely chopped parsley
2 tablespoons of coconut oil
Options: You can add any vegetables you choose, or have available in the fridge.
Method
Preheat the oven to 180°C. Grease a 24 mini-cup muffin pan.
In a blender, blend coconut cream, salt and eggs (or whisk in a large bowl).
Add 2 tablespoons of coconut oil to a frying pan and fry onions, broccoli and parsley. You can always add other spices to the filling mix.
Spoon 1 teaspoon of the vegetable mixture into the prepared pan, and then pour the egg mixture to fill each cup to the rim. Allow 10 to 20 seconds for the mixture to settle and you may need toadd some more filling.
Bake for 15 minutes, or until a knife inserted into the centre of the egg pie comes out clean.
Remove from oven and allow to cool a little to set. Then gently remove with a knife.
Serve hot or cold.
Did you know?
Broccoli is a known immune booster and body strengthener. Selenium, zinc, phosphorus, and copper are just a few minerals that are immune system builders. Vitamin C and beta-carotene are also helpful in protecting to keep the immune system healthy and strong.
Vegetarian and dairy free
By Kerry Spina, author, educator and mindset advocate. Kerry's  latest book, I Love My Body, inspires parents to encourage and embrace body love with their child in a nurturing and safe way. Find out more at kidsinharmony.com.au
Written by
kidsonthecoast