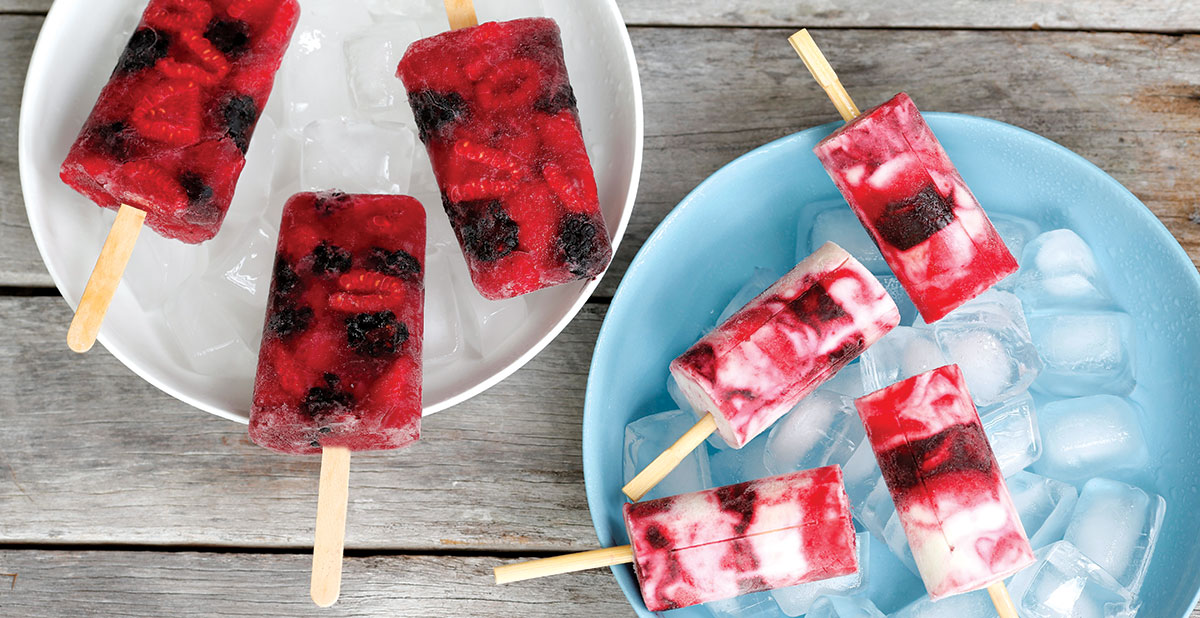 Recipes
Very Berry Delicious Popcicles
Simple to make and packed with yummy fruit, these berry popsicles and icy pops make the perfect afternoon snack.
Berry Yoghurt Swirl Popsicles
Makes: 8
Prep time: 15 mins
Chill time: 2 hours
Ingredients
Raspberry puree
125g raspberries
2 tablespoons caster sugar
Blackberry puree
125g blackberries
2 tablespoons caster sugar
Vanilla yoghurt mixture
2 cups (500ml) Greek style natural yoghurt
¼ cup (55g) caster sugar
½ teaspoon vanilla extract
Method
To make each puree, separately blend berries and sugar in a food processor, strain through a sieve, set aside.
To make yoghurt mixture, place all ingredients in a bowl, whisk until combined.
To assemble, pour a few teaspoons of raspberry puree into each 200ml popsicle mould, do the same with the yoghurt mix and then the blackberry puree to give 3 layers. Repeat sequence to create more layers.
Gently swirl the layers with a wooden skewer. Cover moulds, insert sticks and freeze for 2 hours or until frozen.
Enjoy!
Raspberry and Blackberry Icy Pops
Makes: 8
Prep time: 5 mins
Chill time: 2 hours
Ingredients
250g raspberries, halved
250g blackberries, halved
1½ cups (375ml) sparkling red grape juice
Method
Place berries into each 200ml mould, alternating fruit.
Pour over the juice to cover berries, pop in handles and freeze for 2 hours or until fully frozen.
Written by
kidsonthecoast