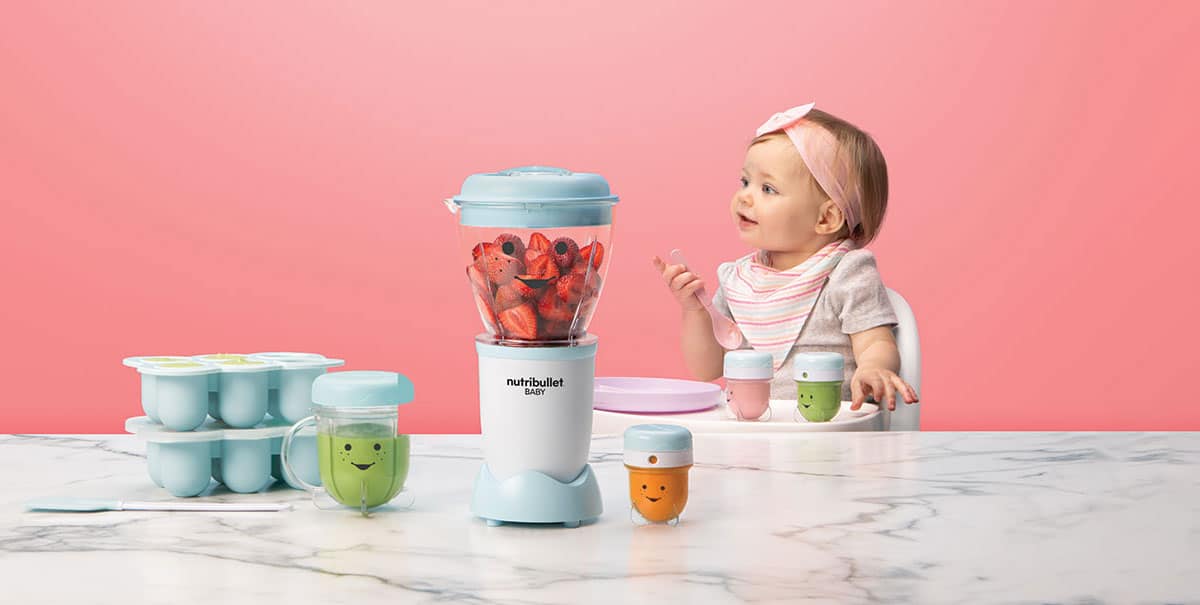 Recipes
Simple baby food recipes for the NutriBullet Baby
The NutriBullet Baby is every parents' baby food meal-prepping dream. Stocked with a freezer tray and six date-dial cups with lids, parents and caregivers can get ahead of the game and prepare a number of meals, saving time throughout the week. By having the ability to store food once made, this process can also become much more cost effective than buying individual jars of baby food.
Ready to get started? These delicious recipes are sure to help little ones expand their nutritional horizons.
Nutrition-Rich Smoothie
Servings in this recipe: 1
Ingredients
½ Avocado
1 Banana, chopped

 

1 cup Unsweetened Almond Milk
2 tbsp Cacao Powder
2 tbsp Creamy Peanut Butter, unsalted
1 tsp Maple Syrup (optional)
½ cup Ice
Directions
Add all ingredients, except ice, to the Batchbowl.
Blend for 45 seconds.
Add ice, then blend for another 15 seconds until you reach the desired consistency.

 
Hidden Veggies Omelette

Servings in this recipe: 3
Ingredients
¼ Carrot, boiled or steamed
¼ Zucchini, boiled or steamed

 

4 Cherry Tomatoes

 

3 Whole Eggs
¼ cup Cheddar Cheese, shredded
2 tsp Olive Oil

 
Directions
Add vegetables and eggs to the Batch bowl and blend until smooth.
Warm olive oil in a medium-sized skillet over medium heat.

 

Pour the egg mixture into the skillet and top with shredded cheese. Allow the egg mixture to cook, tilting the pan and gently moving cooked portions as needed.

 

When the top surface of eggs is thickened and no visible liquid egg remains, fold the omelette in half with a spatula.
Serve immediately. Store any leftovers in the fridge for an easy meal tomorrow.

 
---
YOU MAY ALSO LIKE:
How to create a baby food garden
A simple look at introducing solids to your baby
Written by
kidsonthecoast