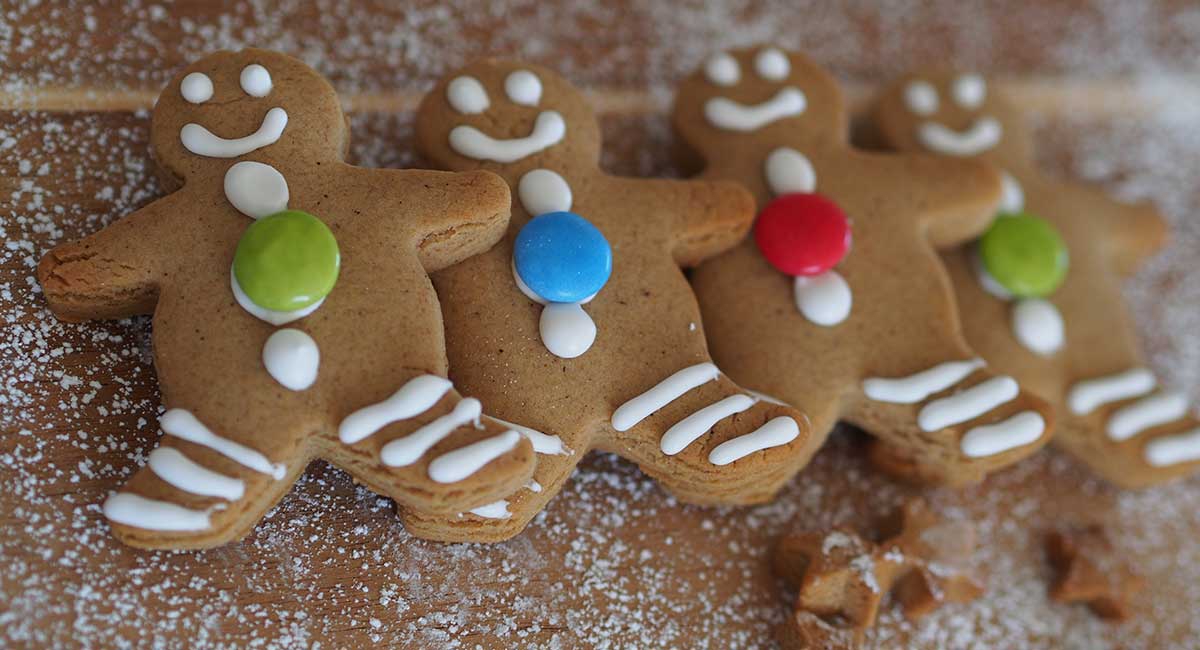 Read
Simple Gingerbread Men Recipe
Gingerbread Men are a Christmas baking favourite. This recipe is deeelish and super easy for little ones to make.
Preparation time: 15 minutes
Cooking time: 20 minutes
No. of serves: 20 standard biscuits
Ingredients
½ cup brown sugar
125g butter, room temperature
½ cup golden syrup
1 egg, separated
2½ cups plain flour
1 tbsp ground ginger
1 tsp bicarbonate of soda
1 tsp mixed spice
To decorate
Smarties
1 cup icing sugar, sifted
Instructions
Beat the sugar and butter together in a bowl.
Add the egg yolk and golden syrup and beat until combined.
Stir through the flour, ginger, mixed spice and bicarbonate of soda.
Once the dough comes together, turn out onto a floured surface and kneed until smooth.
Cover in plastic wrap and place in fridge to rest for 30 minutes.
Preheat the oven to 180C.
Line a baking tray with baking paper.
Place the dough between two sheets of baking paper and roll dough out to approximately 5mm thick.
Cut into shapes and place on lined tray.
Repeat rolling and cutting until all the dough is used.
Bake in oven for 10 minutes, or until slightly browned.
Remove from oven and allow to cool.
Icing
Beat the egg white until soft white peaks form.
Gradually add icing sugar and beat until icing has stiff peaks.
Spoon icing into a small ziplock or freezer bag. Twist top closed and push the icing into one corner.
Cut a small hole in the corner and pipe icing over the gingerbread men.
Decorate with Smarties.
If you are concerned about using raw egg white in the icing, you can purchase egg-free royal icing mix from most major supermarkets or baking supply shops. Or simply substitute the egg white with an egg replacer.
---
RELATED:
Weird Christmas traditions around the world
The COOLEST melted snowmen!
Cranberry Chicken Christmas Salad for families
Written by
Kids on the Coast/Kids in the City