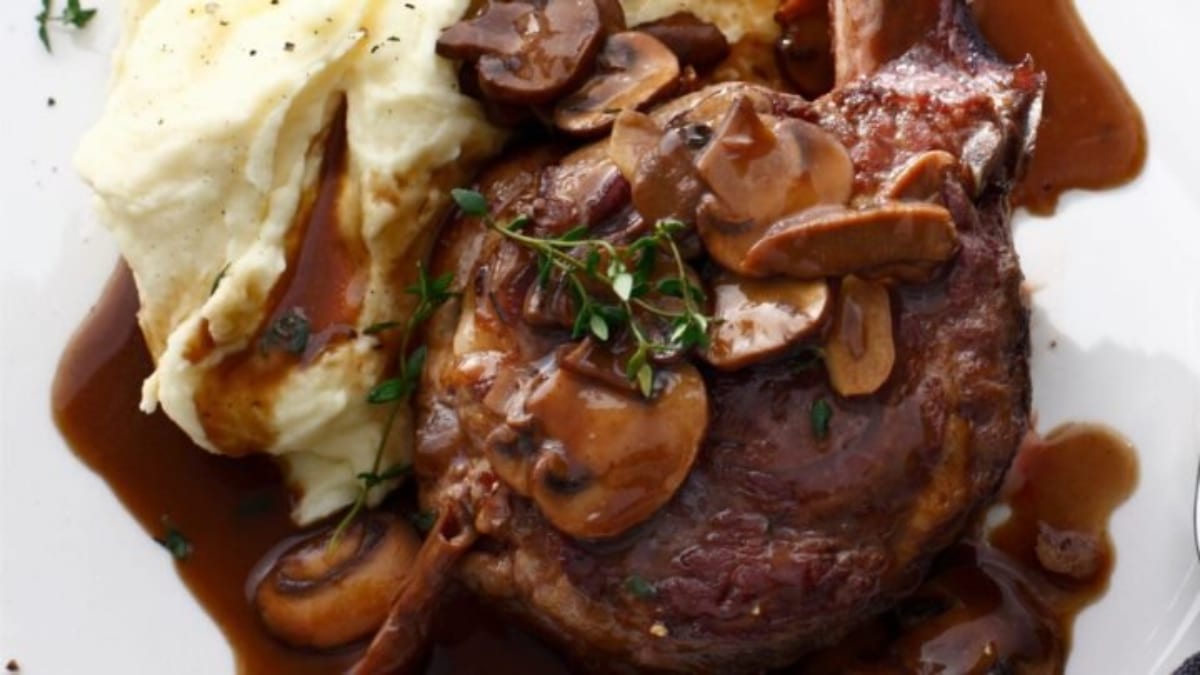 Recipes
Slow cooked beef and mushrooms with creamy mashed potato
This slow cooked beef and mushroom dish served with a creamy mashed potato comes together beautifully. The beef steaks are so tender and combined with the mushrooms and cooked low and slow, it has rich juices. Add a creamy mash and this dish is sure to please!
It's an ideal weekend dinner for the family (the beef and mushrooms needs a good 8 hours to cook). If you're lucky there will be leftovers, which we recommend you serve with a crusty white bread roll. Yum!
You can substitute the dried shiitake mushrooms for sliced shiitake mushrooms if you don't have a spice mill.
Prep 20 minutes
Cooking time 8 hours 15 minutes
Serves 4
Ingredients
10g dried shiitake mushrooms
400g Swiss brown mushrooms, thickly sliced
6 shallots, sliced
6 garlic cloves, chopped
10g fresh thyme sprigs, tied with kitchen twine
2 x 1kg Coles Australian beef blade roasts
Plain flour, for coating
1 tbsp olive oil
125ml dry white wine
4 Crème Royale potatoes, or brushed potatoes, peeled and cut into 5cm pieces
4 parsnips, peeled and cut into 5cm pieces
60g butter, cubed, at room temperature
250ml thickened cream, warm
2 tsp fresh flat-leaf parsley, chopped
Method
Grind the shiitake mushrooms to a powder with a spice mill (if you don't have a spice mill, use sliced mushrooms and don't grind them). Transfer to a slow cooker. Add sliced Swiss brown mushrooms, shallots, garlic and thyme and toss to combine.
Season beef generously with salt and pepper. Lightly coat beef in the flour, shaking off any excess. Heat a large heavy frying pan over high heat. Add oil, then add 1 piece of beef and cook, turning once, for 6 minutes or until well-browned on both sides. Remove beef from the pan and set on top of the mushroom mixture in the slow cooker. Repeat with second piece of beef and discard oil.
Add wine to pan and cook, stirring to scrape up any browned bits on bottom of pan, for 2 minutes or until reduced by half. Pour reduced wine into the slow cooker and cover. Turn slow cooker on low and cook for 8 hours or until the meat is tender. Leave the beef to rest in the slow cooker for 20 minutes. Discard thyme stems.
Meanwhile, in a large pot, combine potatoes and parsnips, cover with cold water and season with salt. Bring to a boil over medium-high heat, reduce heat to a simmer and cook for 15-20 minutes or until potatoes and parsnips are cooked through. Drain in a colander. Place the colander with vegetables over the pot. Place pot over medium heat for about 2 minutes to dry the vegetables.
Using a potato ricer or wire sieve, pass the vegetables into a heatproof bowl. Stir in the butter and then fold in enough cream (about 3/4 cup) to reach the desired consistency. Season the mash with salt. Keep warm until ready to serve.
Transfer beef to a cutting board. Carve thin slices of beef. Return sliced beef to the accumulated juices in the slow cooker for 1 minute.
Serve beef slices with the mash, cooked mushrooms and more beef juices. Top with parsley.
Nutritional Information (per serving)
Calories: 1,355kcal; Energy: 5,670kj; Fat: 78g; Saturates: 38g; Fibre: 12g; Protein: 101g; Carbs: 55g
Written by
Calista Bruschi
When she's not moulding Play-Doh or dancing in the living room with her children, Calista Bruschi is an editor and writer. She has oodles of experience working on newspapers, magazines and websites. Calista likes to organise and be organised. She loves being a mum, Italian food, wine, sport and stationery. She hasn't sleep a full night in more than five years and is powered by coffee.