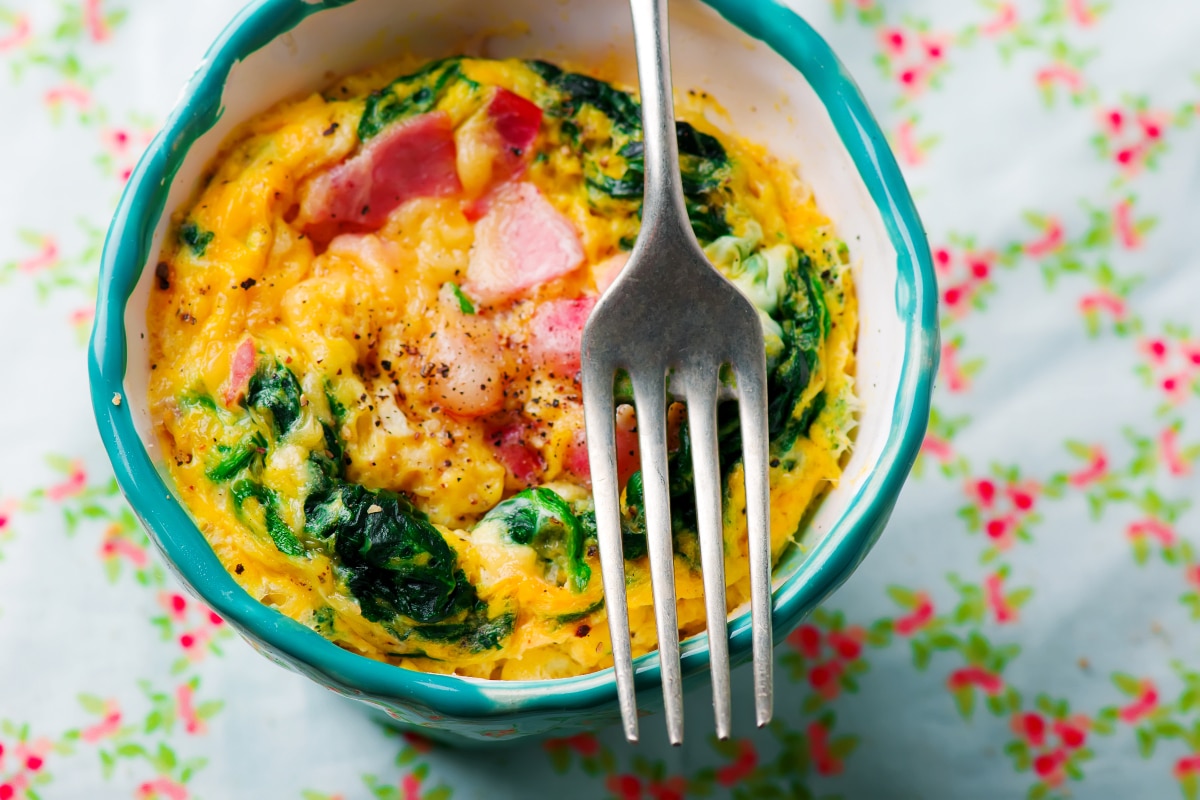 Recipes
Spinach and cheese microwave quiche in a mug
Did anyone have trouble getting out the door in time for the Back to School rush? Make your breakfast the smoothest and simplest part of the day with this deliciously quick and easy spinach and cheese microwave quiche in a mug.
This quiche tastes so good. It has a creamy consistency and isn't too dry. It's salty from the cheese and is packed with spinach, so it's good for you in a way. If you're feeling adventurous, add a slice of cooked, chopped bacon to the mix . With or without bacon, this quiche is an excellent way to get a high protein breakfast with a few vegetables and it's a great start to the day.
Use frozen or fresh spinach, but be sure to get as much of the liquid out of the spinach as possible before microwaving the quiche. You don't want a watery bottom. See our tips below.
If using frozen spinach, we'd recommend using a mesh sieve and a wooden spoon. Run warm water over the spinach until it thaws and then press down on it using the wooden spoon. If you're using fresh spinach, place your spinach in a cup and then add a couple of tablespoons of water to the spinach, cover with a paper towel and microwave for 1 minute to steam/wilt the leaves. Drain the liquid from the mug and press the spinach with a spoon to remove as much water as possible.
Prep 2 minutes
Cooking time 3 minutes
Serves 1
Ingredients
1/2 cup chopped frozen spinach thawed and drained (or 1/2 cup packed fresh spinach)
1 egg
1/3 cup milk
1/3 cup shredded cheddar cheese
1 slice cooked bacon chopped (optional)
Method
Add spinach to the mug and steam/wilt it thoroughly, removing any excess liquid from the cup.
Crack egg into the mug with the spinach. Add milk, cheese and bacon (if using). Add salt and pepper to taste. Mix thoroughly to combine.
Cover with a paper towel and microwave on High for 3 minutes, or until fully cooked.
Nutritional Information (per serving)
Calories: 259kcal; Carbs: 5.4g; Protein: 18g; Fat: 18.6g; Cholesterol: 210mg; Sodium: 346mg: Fibre: 0.3g; Sugar: 4.3g
Written by
Calista Bruschi
When she's not moulding Play-Doh or dancing in the living room with her children, Calista Bruschi is an editor and writer. She has oodles of experience working on newspapers, magazines and websites. Calista likes to organise and be organised. She loves being a mum, Italian food, wine, sport and stationery. She hasn't sleep a full night in more than five years and is powered by coffee.