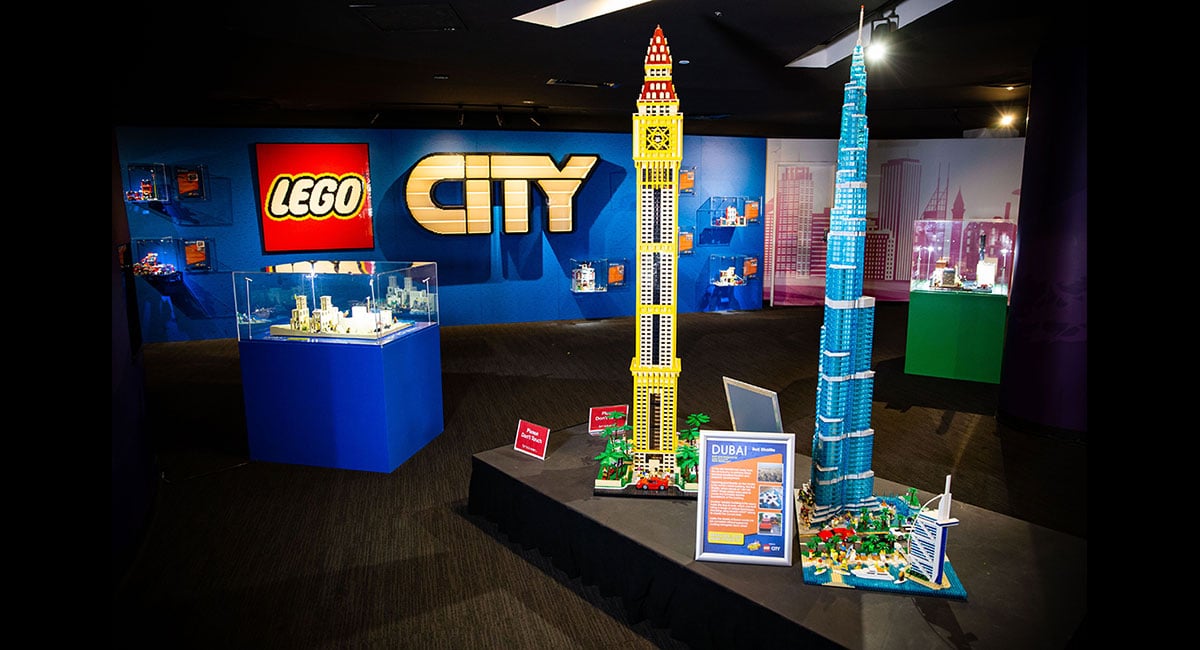 Local Life
We take a guided tour of Brickman Cities ... with BRICKMAN!
The legend that is Brickman (aka Ryan McNaught) dropped into Mooloolaba Wharf recently to show us around his latest exhibition, Brickman Cities. We grabbed a moment of his time to chat about LEGO, Logies and the ultimate life-size build. #fangirl #allaboutmum
What's been your favourite build so far?
Gee, that's a tough one. That's like trying to pick your favourite child. I've done some pretty crazy things, like life-size cars. But I made an actual life-size Tyrannosaurus Rex, which was nuts. It's in Sydney at the moment, at the Australian Museum. Weighs 1.6 tonnes and took around 2,000 hours to build.
How many people are on your team?
There's 23 at last count. I'm not the best LEGO builder there by a long shot! We're all good at different things. If you look at this exhibition [Dubai Section, LEGO Cities, Mooloolaba], for example, I did the twisty Cayan Tower, whereas Luke did the Burj Khalifa, and Claire did the Clock Tower.
What is your speciality, then?
I probably tend to do the more unusual or the odd things. The Cayan Tower, from a LEGO perspective is kind of nuts. Those plastic blocks are not really designed to do that. I think of it like a puzzle. Like a crazy puzzle.
What's been your least favourite build?
I don't like to do the same thing multiple times. More than 10 years ago, I had to do a LEGO policeman about 1-metre high for shops around Australia. I had to build seven of him, so I built them all like a production line — all the feet, all the legs etc. — and I'm totally okay with that. Then when I'd done all seven, I got the call, "We need an eighth." I really didn't enjoy doing that last one!
Do you create it all yourself, or do you have a computer?
Look, it really depends what it is. This whole of this LEGO Cities exhibition was all done either on paper or we do some sort of sketches or drawings. We never used a computer for anything in this exhibition.
With the New York build, I put a projector in the roof and screened Google Maps onto the floor.
What is your workshop like?
We have huge workshop, far bigger than the Brick Pit on LEGO Masters!  But on the team we have real engineers, because some of the big things we build need steel work inside them for safety. We have people that look after our inventory, to make sure we've got all the right bricks and the right colours. The Lego builders, metal workers, the social media team. We have quite a variety of people.
Do your kids love LEGO? Do they want to be the next Brickman?
Yeah, my kids are a bit older now. They're 14 going on 26. One is still into LEGO and if they're around it, they'll do it. When they were younger, they were always saying that they would take over the workshop one day, but as kids get a bit older, they have their own ideas. At the moment, one day Alex wants to be prime minister, the next minute he wants to be a train driver! Of course, they are teenagers, so whatever your parents do isn't cool.
How can we keep the older kids interested in Lego?
It's a tricky one! LEGO has some specific things around robotics and engineering, which are aimed for late teens / almost adults. Some of that stuff's pretty crazy. For example, I always wanted to make a robot that could get me a drink from the fridge. I thought that would be awesome.
I found, certainly with older kids, if you issue them a specific technical challenge, then that's what kind of gets them going. Things like, can you make a LEGO model climb a staircase? That way, they've actually got something they'll need to solve and they'll think about it in a very different way. It's not so much free play, because they've kind of grown out of that. But if you give them a specific technical problem, they'll use their creativity in a different way.
Also, LEGO has got several things that now interface with devices. For example, augmented reality, where you get the iPad and you hold it over the LEGO set and stuff happens. They're more probably into how technology integrates with LEGO, rather than just straightforward building.
If you could build anything, what would it be?
I've got this massive long list of things that I've always wanted to build, and slowly I tick them off. But the one that's always been there, and kind of funny being on the Sunshine Coast, but I've always wanted to build a boat — an actual real-size boat that floats.
Why a LEGO Cities exhibition?
We have seven exhibitions touring around the world and they're all totally different. And so whenever I sit down to work on an exhibition, and in this case Cities, I look for 'education by stealth'. Because, let's be honest, if you tell a kid that you're going to go and learn something, they're like, 'You are so lame, Dad. Whatever.' But if you say, 'We're going to go play with LEGO and have some fun', it's a very different reaction.
Urbanisation, cities and the way people interact in cities, it's a thing. What's an interesting way to learn about that? We can show kids what Dubai was like 20 years ago and Dubai now. When side by side in LEGO, it's pretty amazing. We can show how the people interact with the cities on so many levels with all the minifigures.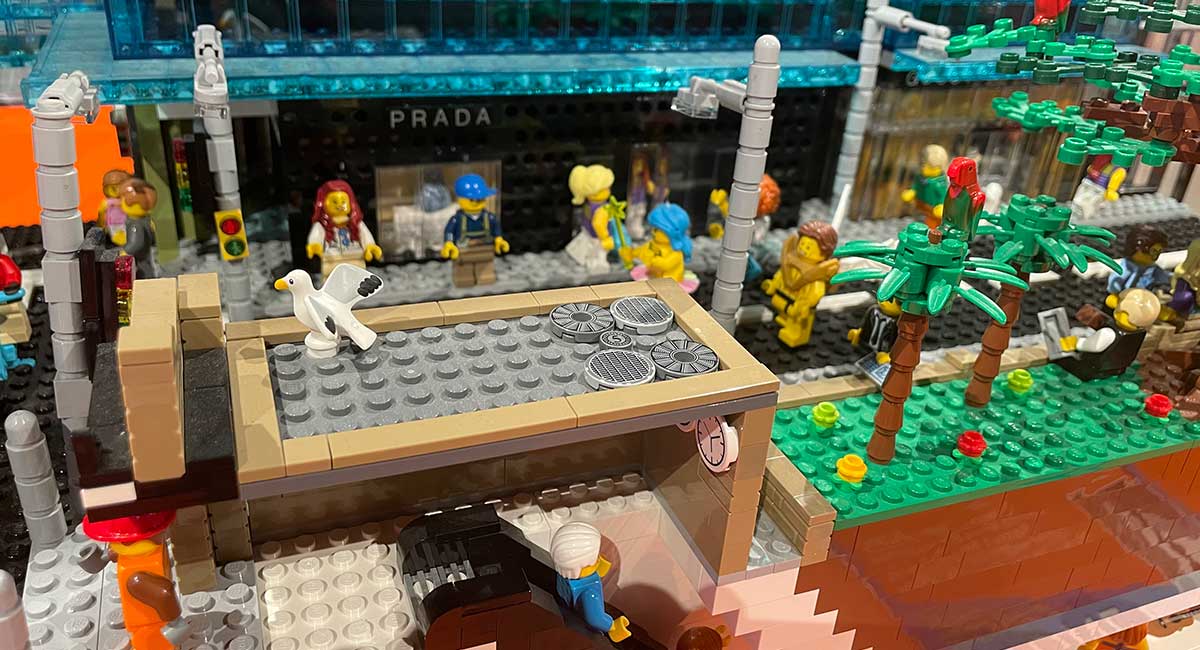 Congratulations on the Gold Logie!
Editor's Note: LEGO Master Australia won the Logie for 'Most Outstanding Entertainment or Comedy' at this year's awards ceremony. Brickman and Hamish Blake accepted the award.
Ah, it's a team effort. I feel very lucky to be part of it. We have a lot of fun making the show!
What's it like behind the scenes?
Hamish is hilarious. He's exactly the same person that you see. Getting to work with someone like that is pretty awesome. I know LEGO, I don't know television. He knows television, doesn't know LEGO, so we work together well.
LEGO Masters is one of the only shows we enjoy watching together as a family. Why do you think it is appealing to both parents and kids?
When we sat down to work on the show, the executive producer, David McDonald who invented MasterChef and Gogglebox, asked 'How do we make this show appeal like it used to?'
I remember growing up as a kid, we'd have nights where we'd sit down and watch a show together, so we wanted to recreate that experience. For example, if you watch The Simpsons, there are jokes in there for the kids and there are jokes in there for the adults, and that's what makes it so interesting. It's funny on multiple levels. Having LEGO, that appeals to kids, the creativity is engaging, and then Hamish's level of humour is there for the adults. When you kind of layer all those together, that's what makes it so fun.
Brickman Cities is on at Mooloolaba Wharf until July 12. Book tickets to the exhibition here!
---
You might also like…
It's time to play the music: Muppets to get their own LEGO minifigures
Sunshine Coast's Bricks 4 Kidz: We put the LEGO party to the test
Written by
Angela Sutherland
After spending many years hustling stories on busy editorial desks around the world, Angela is now mum of two little ones and owner/editor at Kids on the Coast / Kids in the City. She is an atrocious cook and loves cutting shapes to 90s dance music.