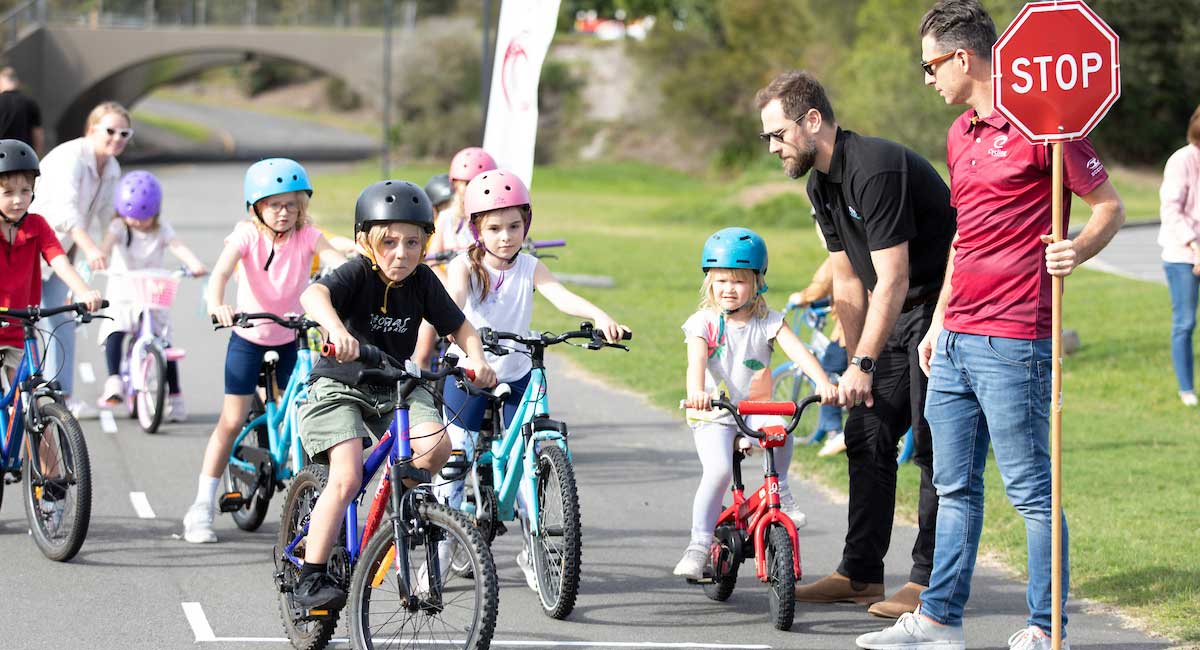 Activities
The FUN way to learn to ride a bike
Learning to ride a bike is one of those non-negotiable life skills that every child has to learn. Yet, despite the importance of the task, it's one of my hugely embarrassing parenting fails.
Not being a cyclist myself, living on a busy road, juggling a cray cray busy household, teaching our youngest to ride a bike is something that somehow just slipped off the to-do list. 
She had no interest in learning to ride a bike, in fact flat out refused to get onto the hand-me-down stabiliser bike in the garage. From there, it was a battle I never managed to take on. (I know, I know… guilty… TOTAL parenting fail!)
I had often wondered why there were swimming lessons, music lessons, sport lessons, but never any cycling lessons. After all, learning to ride properly and safely is something that could save your life.
So, when the Australian Cycling Academy (ACA) launched their Wheely Fun Bike Camp on the Sunshine Coast, I jumped at the chance to hand over the challenge of teaching our youngest to ride a bike over to the experts. 
🚲 🚲 🚲 🚲 🚲 🚲 🚲 🚲 🚲 🚲 🚲 🚲
The Wheely Fun Bike Camp, Sunshine Coast
Held at the USC Athletics Track, the ACA Wheely Fun Bike Camp is designed for riders of all ages and abilities. A refreshing change from most bike camps that require kids to be able to ride independently, this camp is about learning road safety, confidence building and just having heaps of fun on your bike. They offer half days and full days, with plenty of games to play and breaks throughout the day to keep kids engaged. They even have access to the sports hall inside USC, should it rain. 
Activities are held on both the athletics track and the central oval. The track is great for giving kids a continuous circuit to get going on their bikes. The track lines help massively with the newbies, giving them something to follow, and the instructors did a wonderful job of keeping the kids all snaking their way around the track without anyone left behind. The grass is also a great spot for the newbies, giving them the confidence to pedal without worrying about grazed knees should they fall off. It was also a great open space for games and for the more confident riders to test their skills on something a little bumpier.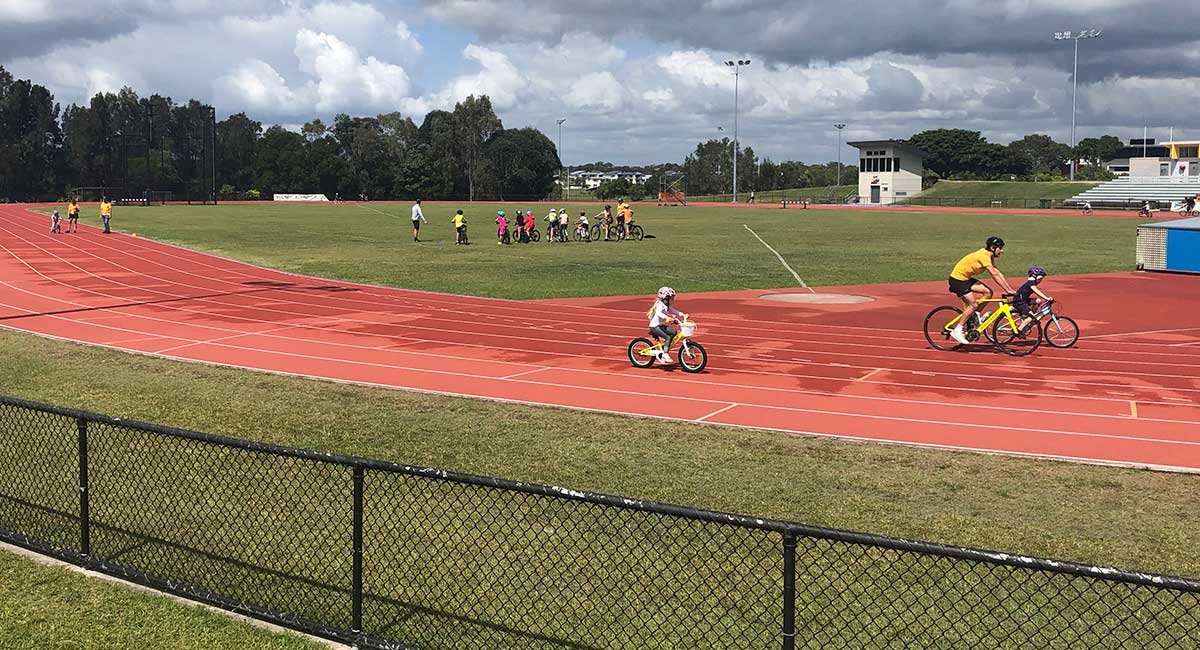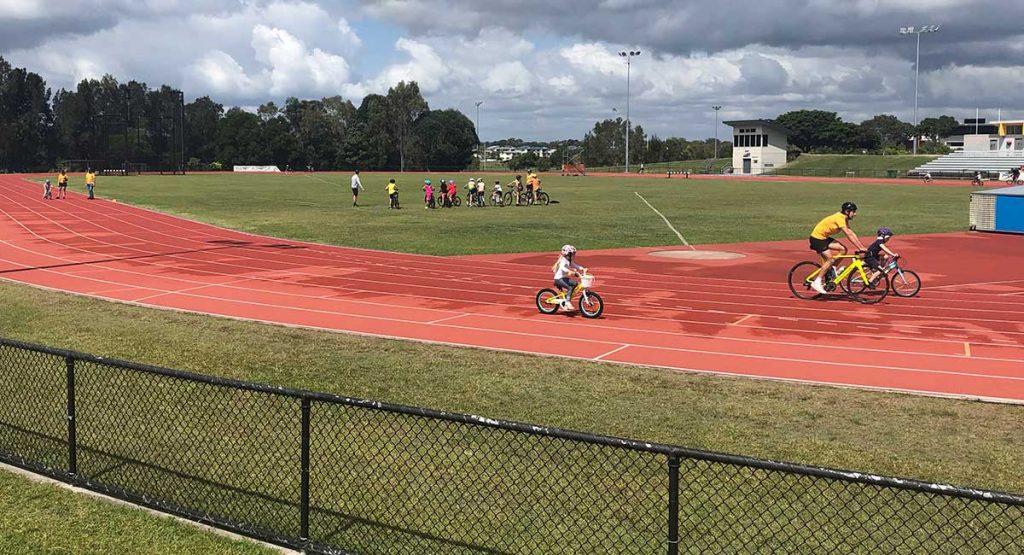 For the newbie riders
I will admit, I was very worried about taking a kid with zero riding ability to a bike camp. It would require a lot of one-on-one for the instructors. However, there were several kids there of the same level and plenty of instructors, so they managed the newbies incredibly well. Each child was supported and guided through every single pedal turn. 
And as each nervous little person was guided around the track, you could see their confidence grow. The instructors were there to catch them and pop them back on the bike if they wobbled, and cheer them on as they each began to pedal independently. 
For the experienced riders
As much as they do cater for the little ones, the Wheely Fun Bike Camp is also ideal for the more experienced riders. By breaking the kids into smaller groups based on ability, there was plenty to keep the older riders challenged. They spent time refining skills, learning about road safety, doing relay races, and playing plenty of bike-based games. Confident on two wheels and eager to test their ability, this group had heaps of fun all day.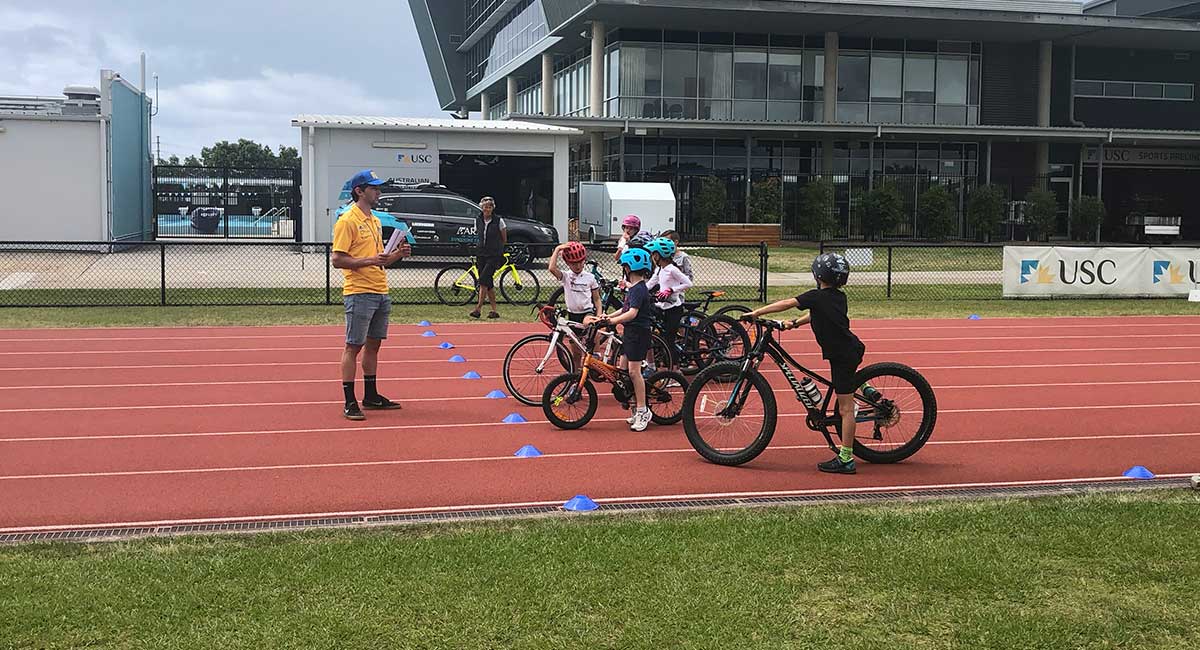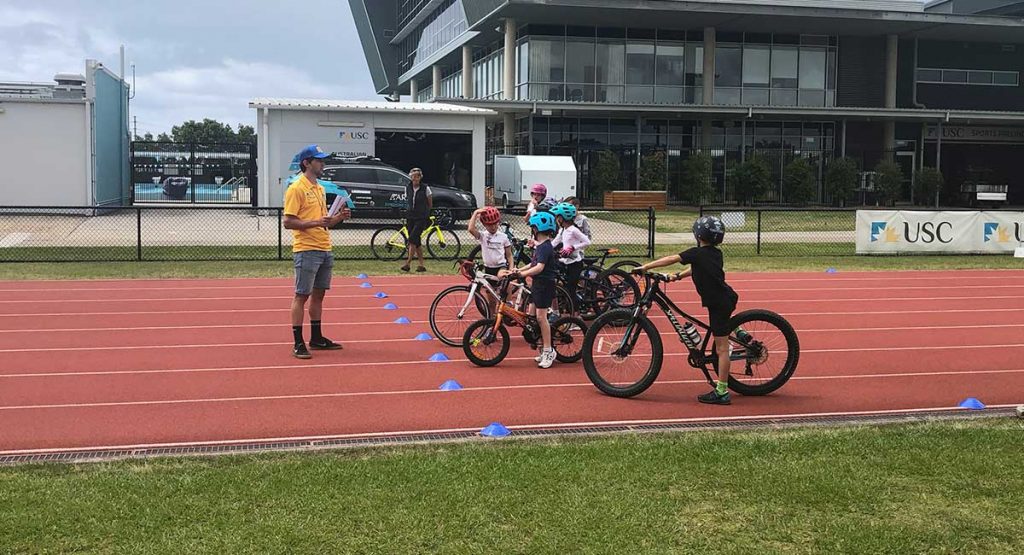 So… did she learn to ride a bike?
YES! By the end of the third session, we had an incredibly proud little cyclist. Able to pedal independently (albeit a little wobbly!) and confident enough on two wheels to enjoy cycling. 
And the best bit? She wanted to go back again! With so much opportunity for fun and development, it's a camp we will return to every school holidays.
By perfectly balancing the learn to ride activities and road safety skills with plenty of fun and games, there was never a moment for boredom, and the kids were all having a blast.
It's also perfect for working parents with kids of different ages, as the camp caters for all levels and abilities.
Wheely Fun Bike Camp – fast facts
Who it is for: Kids ages 5 -12 of all riding abilities
When: Full days and half days
Where: USC Athletics Stadium
Organised by: Australian Cycling Academy
---
Kids on the Coast was provided with two free sessions to review the Wheely Fun Bike Camp
Written by
Kids on the Coast/Kids in the City