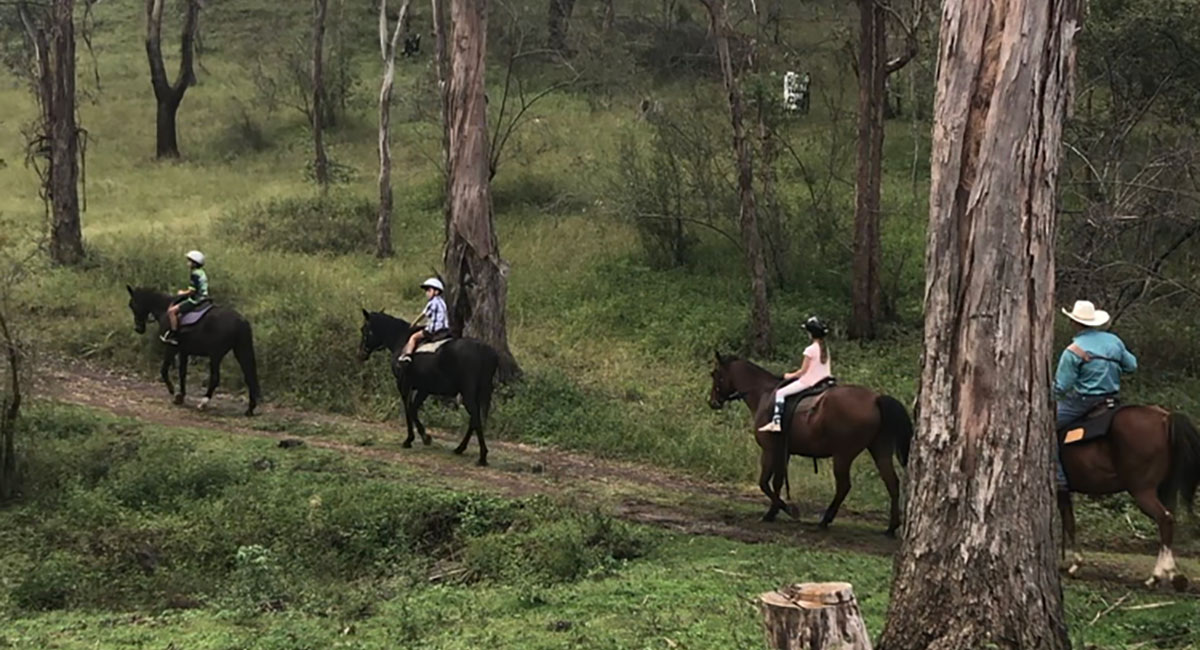 Reviews
Bestbrook Mountain Farmstay - a family review
Located 90 minutes from Brisbane along the Cunningham highway lies Bestbrook Mountain Farmstay. The homestead is set on hundreds of acres of beautiful pastures and offers everything you would expect from a Farmstay. Including a range of accommodation options, twice-daily animal feeding, horse riding, whip cracking and damper making.
Accommodation options at Bestbrook Mountain
Accommodation options include self-contained cabins, the 'bunkhouse' backpacker accommodation or bush camping. As we have all our own equipment we opted for camping.
There are four camp areas; Tranquility, Gap Creek Flat, Peacock Crossing and Bore Flat. The Campsites within each section are stretched out along 1.5km's of the Gap Creek that meanders its way through the property. The sites are large and grassy with shady trees and there is both powered and unpowered sites available in each area.
We have a big family and an accompanying group with us so we opted for one powered site and one unpowered. As there are no actual designated sites we were free to explore the area and pick the site that suited us most, existing fire rings can help determine the best spots to setup. Arriving in the middle of the school holidays in the days following Easter we were concerned at how busy it may be, however we were pleasantly surprised to find that it was not overcrowded and we ended up with a lovely spot in 'Tranquility'.
Utilising our very long outdoor extension cord we were able to plug into power and move a good distance away from any other campers and just a short walk to the portable shower and toilet blocks they have set up. The toilet blocks are basic 'port-a-loo style' with each of the units having 4 toilets and 3 hot showers. This style of shower may not suit those with particularly young kids as they aren't very big and a bit tricky to help with the taps without getting in yourself however there are additional amenities located in the Bunkhouse accommodation area.
Horse riding for the family
Our main reason to visit Bestbrook was for the kids to go horse riding. First up was the parent-led horse rides for the younger kids. The kids are fitted with a helmet and helped onto their horse. Parents are then able to lead them around the paddock for approximately 15 minutes. This is a great introduction for little kids or those that have never ridden before.
For the older kids there are one-hour lessons available, which they must complete before being allowed to join a trail ride. After they are introduced to their horse they go through the basics including seat and stirrup position and how to hold the reins. They are then off around the paddock learning how to control their horse, change direction and pace etc. Throughout the lesson the staff are very helpful and patient with the kids, and whilst completing the lesson isn't a guarantee that you will be able to join the trail ride, for some kids the hour-long experience may be enough to satisfy their horse craving. Our kids were all deemed competent riders so were lucky enough to then join a trail ride later in the afternoon.
They were all paired back up with the horse they had during their lesson which gave them all a boost in confidence as they now knew their riding partner. They then spent another wonderful hour slowly riding through the property, tackling some small inclines, and even a creek crossing. The kids absolutely loved the experience and were so proud of themselves.
Things to do for families at Bestbrook Mountain Farmstay
For those not as interested in the horses there are also a number of other activities. There is an easy 1km walking track to Gnomes Gully Cave which was suitable for the whole family. Animal feeding in the mornings and again in the afternoon, which allows the kids to get up close with barnyard favorites and even try their hand at milking a cow. Wagon rides, whip cracking and boomerang throwing also kept everyone entertained.
The property itself is also ideal for plenty of nature-based play, with our kids spending hours searching the creek for yabbies, building rafts and generally getting dirty!
The homestead also features a small playground, a swimming pool and a café so there is certainly plenty on site to keep the whole family happy.
The staff were lovely, the property maintained and the activities were well organized so it made the whole experience so positive. We will definitely be back!
By Alison Russell
---
RELATED:
Escape it all with a farmstay
All Aboard! We take the family for a trip on the Mary Valley Rattler