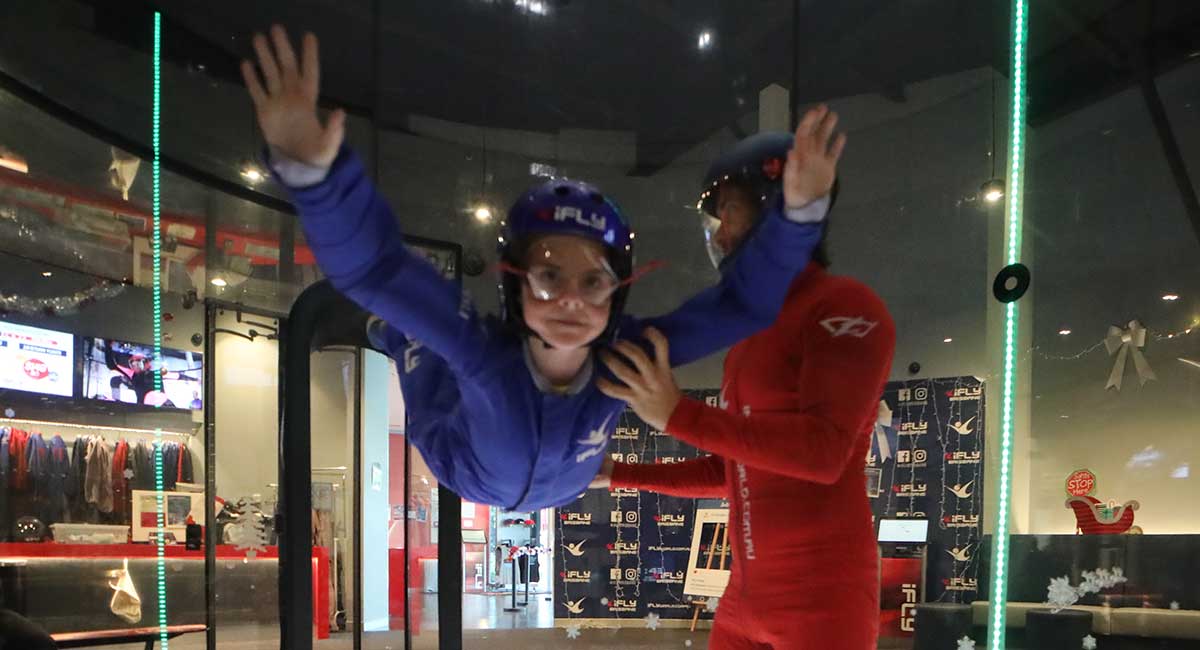 Activities
iFly Indoor Skydiving - the kids review
As a child, I had an incredibly vivid imagination. I have clear recollections of running around the primary playground with arms stretched out wide, 100 percent certain I was soaring above the games of tiggy below. 
Now, what if that could actually become reality for your little ones (and yourself)?
A bunch of our KIDS tribe hit the skies at iFly Indoor Skydiving in Brisbane to find out.
What to expect at iFly Indoor Skydiving
On arrival, they check you in and weigh you – so they know exactly how strong the air needs to be for each person to fly. (Don't worry, nobody sees the number on the scales, which was a relief, as my covid kilos also continue to soar!). Then it's into the briefing room for a video, safety instructions and an explanation of the main hand signals you need to know. It's also an opportunity to ask any questions or raise any concerns. We had a very eclectic bunch of flyers in our group, so there were plenty of these! 
We had a dad that hates heights, a deaf 12-year old with cochlear implants, a 9-year-old with a rare brittle bone disease (called CRMO) and a scaredy-cat mama (yep, that's me). All mixed in with a gung-ho teen and an experienced mum.
Thankfully iFly are very used to catering for all ages and situations, so every question was answered and the group was happy to fly. Then it's time to suit up, goggles on, and into the air-lock area.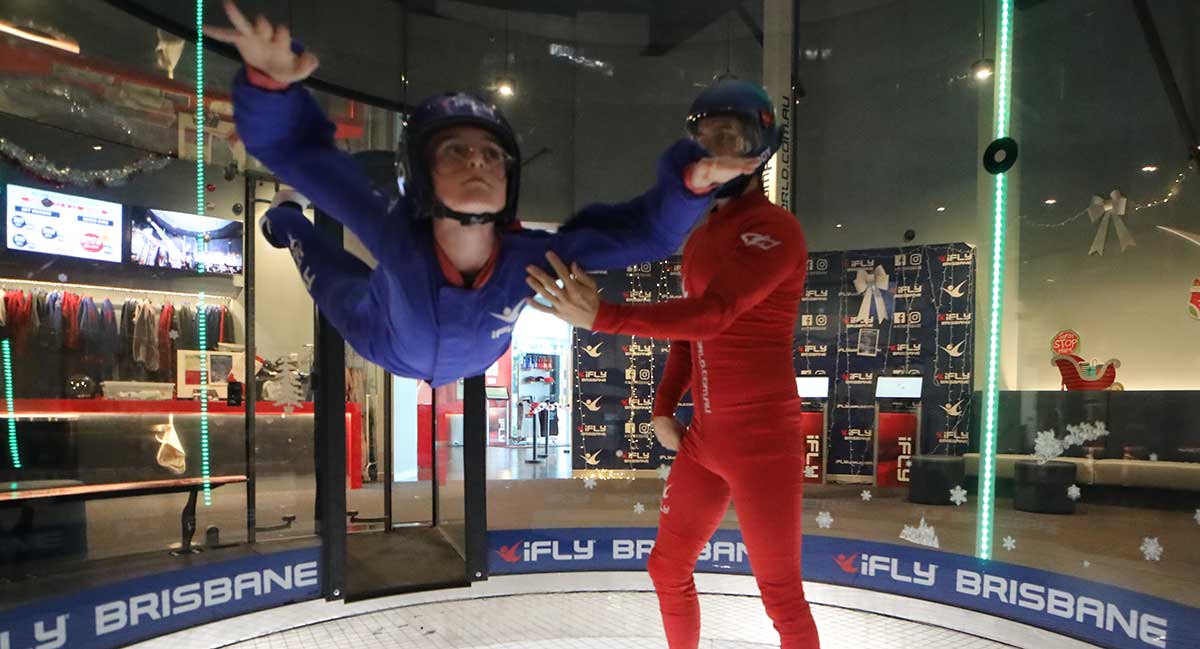 Each flyer in your group takes their turn flying in the tunnel. The instructor is in there with you, to help you position your body and showing you the little movements you can make to go up and down. For novices like me, it was mostly ensuring that you don't bump into the walls! 
It's windy. Like, WINDY! So, it's impossible to speak – hence the hand signals. But, once you get the hang of it, you really do feel like you are flying!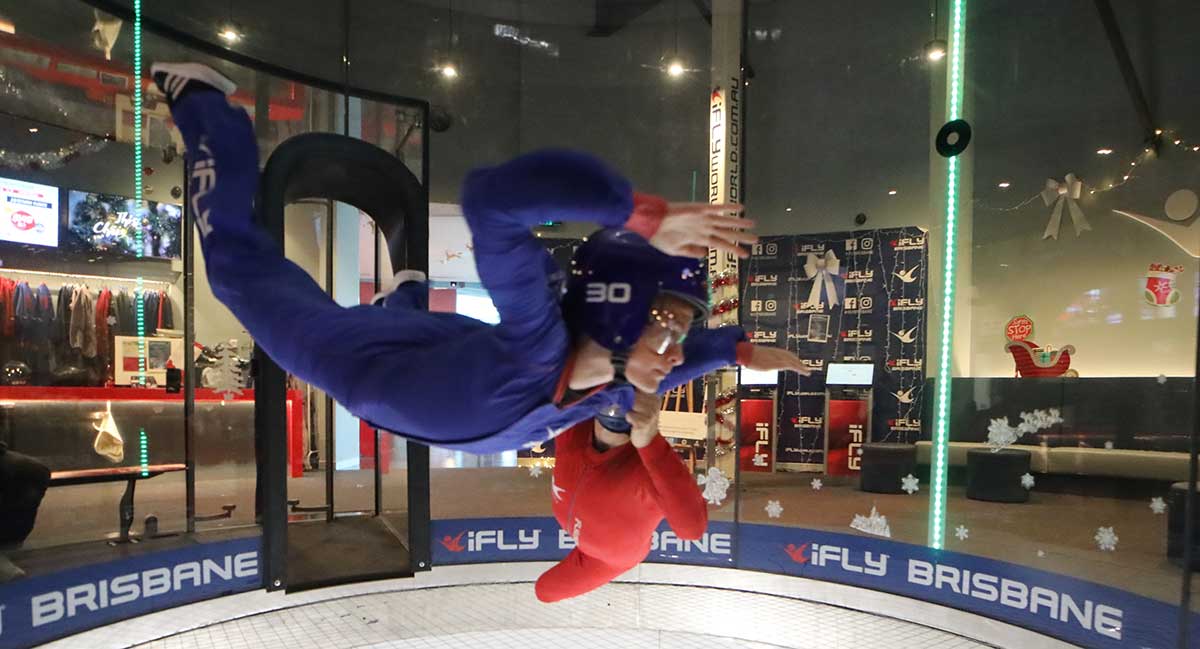 Once you are used to the experience, the instructor will take you flying up high in the tunnel – if you want to. Watch to the end of the video below to see what that looks like!
Some of our group did soar up to the roof, some didn't. Those that did, absolutely loved it. I will confess, I was too scared. But my uber-excited teen said it was 'sick'.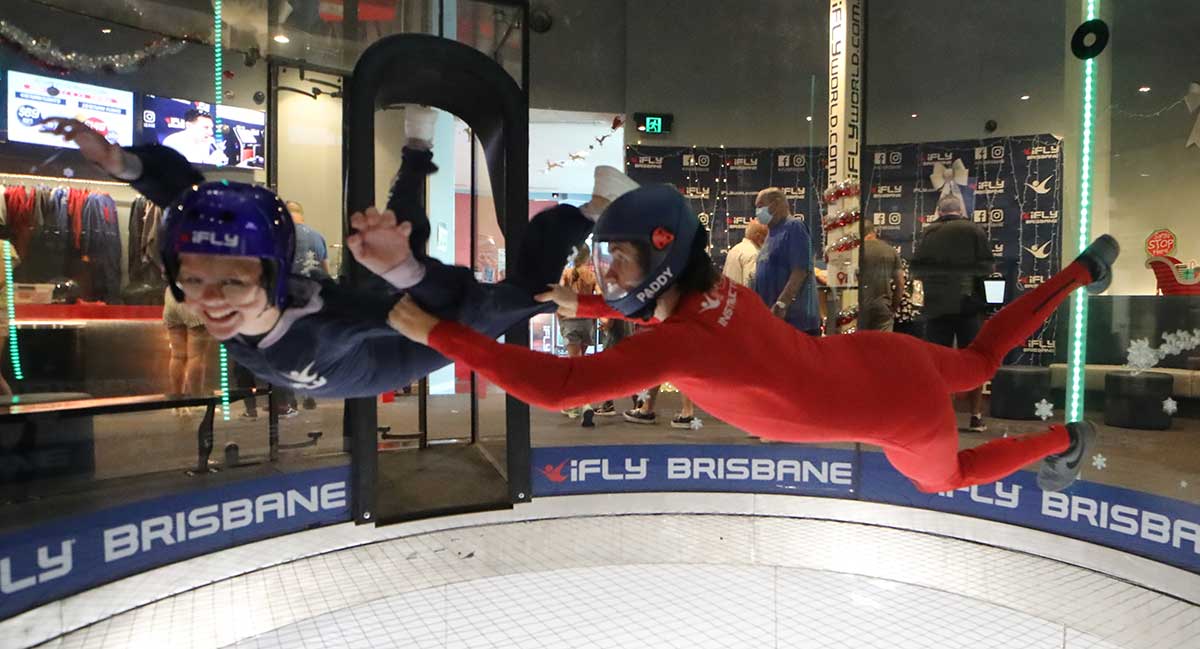 OK, so how child friendly is iFly, honestly?
I was really impressed with how child friendly it was. I know they say from ages three to 103… but lots of places make that claim with the reality being rather different when you get there. However, in iFly's case, it really is a child friendly AND adult friendly activity. And every member of our very varied bunch agreed.
I will admit that I was nervous for my breakable 9-year-old. But the instructor was incredible, ensuring she was safe and happy every step of the way. I didn't need to worry; she absolutely loved it and was definitely braver than me!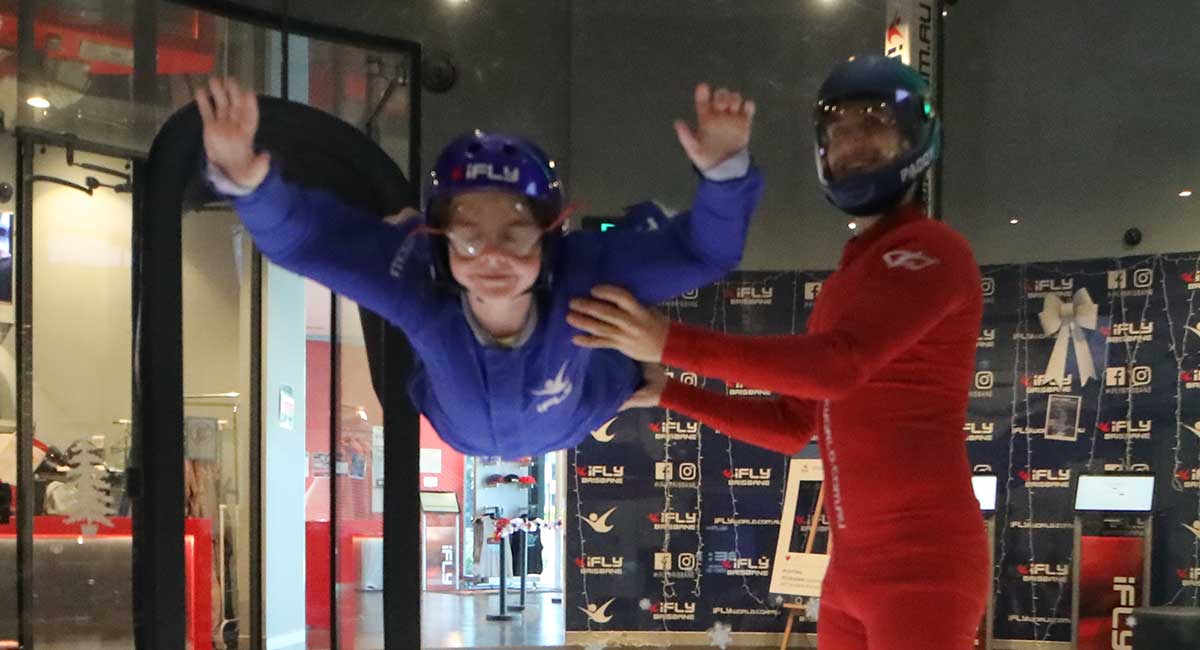 In fact, everyone loved it. Each for different reasons, and each within their own comfort zone. No matter whether you are flying with limitations or eager to soar to the skies, iFly Indoor Skydiving really does cater for absolutely everyone.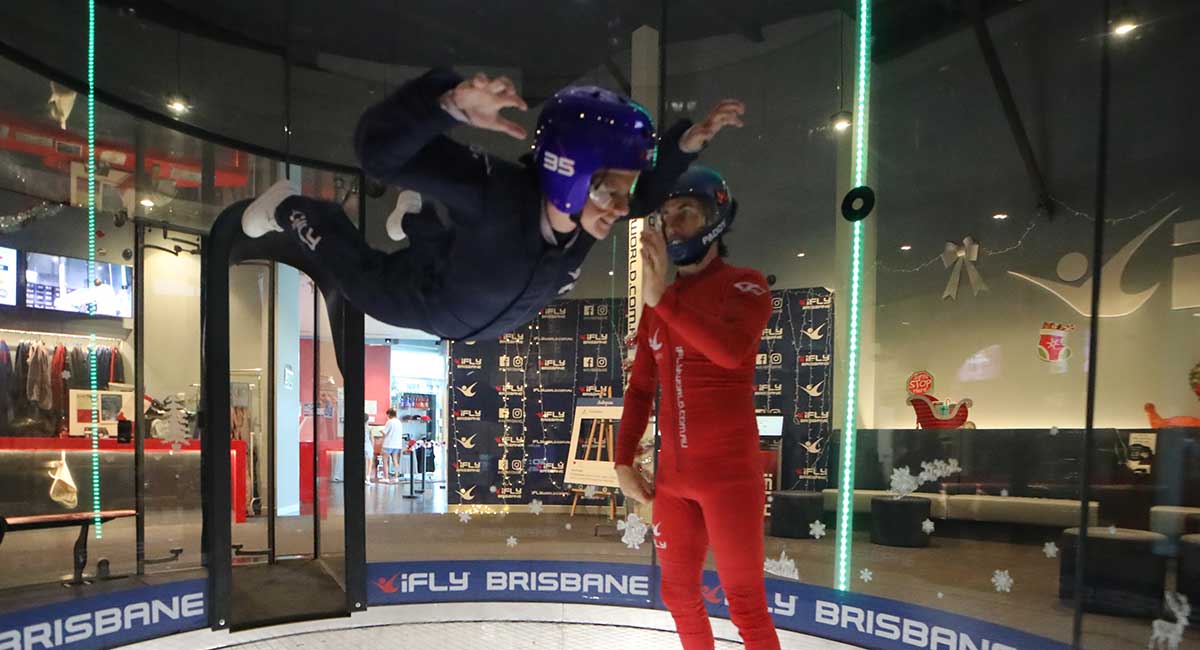 In my backpacking days, I was once brave enough to try skydiving (once, and only once!). From the outside, the iFly experience looks similar in many ways, but I also found it a very different experience.
The wind buffeting past your face is the same. But all the fear is taken away, so you are able to actually able to relax. Your focus is much more on balance and movement in the tunnel—on flying—rather than the fact you have just tumbled out of a plane strapped to a stranger and are both plummeting to the ground.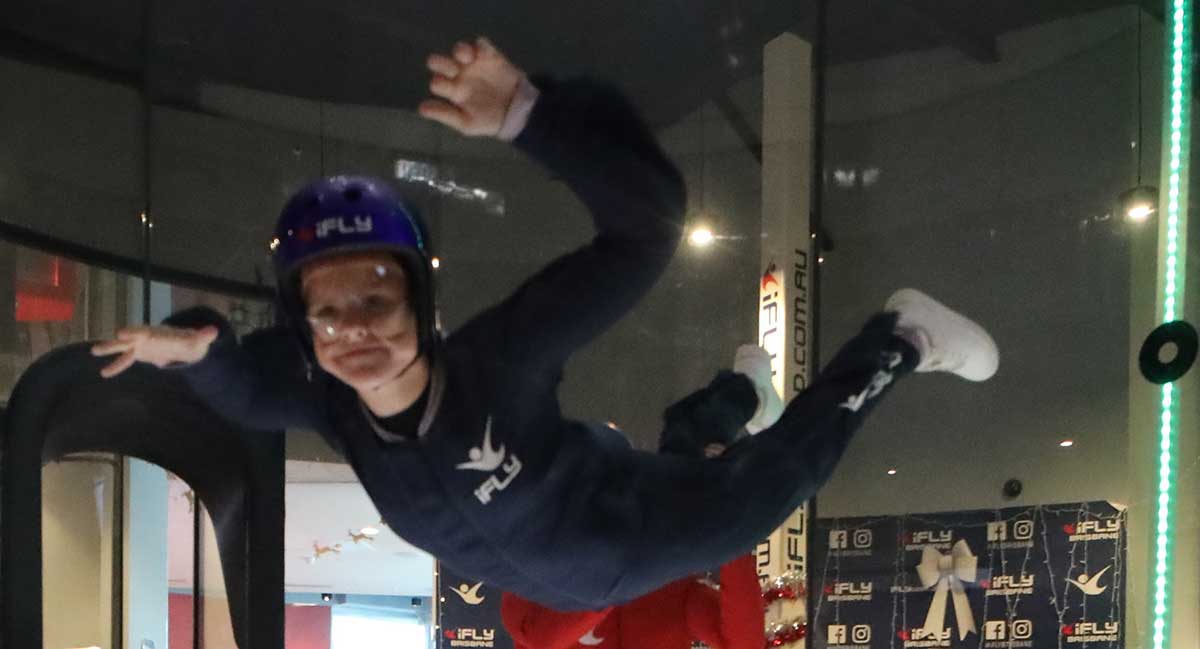 The iFly verdict
Being a family with an invincible teen boy and a fracture-prone tween girl, it's almost impossible to find something that we can all enjoy together. And 90 percent of active things are ruled out for her. But iFly ticked all the boxes for our whole family. And the same was for everyone in our group.
I'm sure it is going to be something we will do together time and time again.
iFly facts for kids and families
Is it easy to get to iFly, and how is the parking?
iFly Brisbane is on the Gympie Road side of Westfield Chermside, so access and parking is super easy. You can even grab something to eat afterwards at one of Chermside's many eateries. 
How many times do you fly in a visit?
We each did it twice. 
What if I have other children?
You will need supervision for any kids not flying. Only those that are flying are allowed into the tunnel air-lock area, and you will be there for about 35 minutes. There is a viewing area around the tunnel though, so any non-flying members of your group will be able to see you throughout the experience.
Can you take photos?
You can take photos until you go into the airlock area. At that point, all valuables must be left in the lockers. But don't worry, iFly can take photos and a video and email them to you. Or, if any members of your group aren't flying, they can also watch you fly and take photos from the viewing area.
What if my child gets scared?
There is a really simple signal of two thumbs down for 'stop, I want to get out'. Do that, and you are out straight away. For really little ones who might forget the hand signals, you are directly on the other side of the glass, so you can watch your child through the whole flight (you can wave at each other!). Any concerns and you can immediately signal the instructor. Don't worry though, the instructor is totally in tune with the flyer, so he will immediately stop the flight for anyone who seems uncomfortable. For example, my goggles felt like they were coming off at one point. He whipped us out of the tunnel instantly and safely re-fastened them before we jumped in again. 
What about COVID?
COVID precautions were really straightforward and we all felt very safe. You wear a mask on going in and around any communal areas, all their gear is sanitised every time, and it was easy to socially distance from other groups. Be aware, COVID restrictions are constantly changing, so please check with iFly for their latest requirements before visiting. 
To book your iFly Indoor Skydiving experience, or for more information, visit www.iflyworld.com.au.
By Angela Sutherland
---
You may also like…
The best kids bike tracks in Brisbane
Brisbane's best bushwalks with kids 
Written by
Angela Sutherland
After spending many years hustling stories on busy editorial desks around the world, Angela is now mum of two little ones and owner/editor at Kids on the Coast / Kids in the City. She is an atrocious cook and loves cutting shapes to 90s dance music.