Want to take the kids to explore the barrier reef, without the long haul to Cairns? Take a 2.5-hour drive from the Sunshine Coast and you can access one of the most incredible barrier reef experiences for families. In fact, visiting Lady Elliot Island with kids is as easy as it is stunning. We couldn't wait to take a closer look!
What is Lady Elliot Island?
A short hop from Hervey Bay, Lady Elliot Island is a coral cay located at the southern tip of the World Heritage Listed Great Barrier Reef. Situated within a highly protected 'Green Zone', this pristine island is sanctuary to more than 1,200 species of marine life. Known as the home of the manta ray, the sparkling waters are filled with an abundance of turtles, an amazing array of spectacular marine life and unspoilt coral reef.
The family-run Lady Elliot Eco Resort is the only place you can stay on the island. As custodians of such a fragile and pristine ecosystem, this world-leading, award-winning ecologically sustainable tourism operator is dedicated to protecting and enhancing Lady Elliot Island, the Great Barrier Reef and surrounding communities.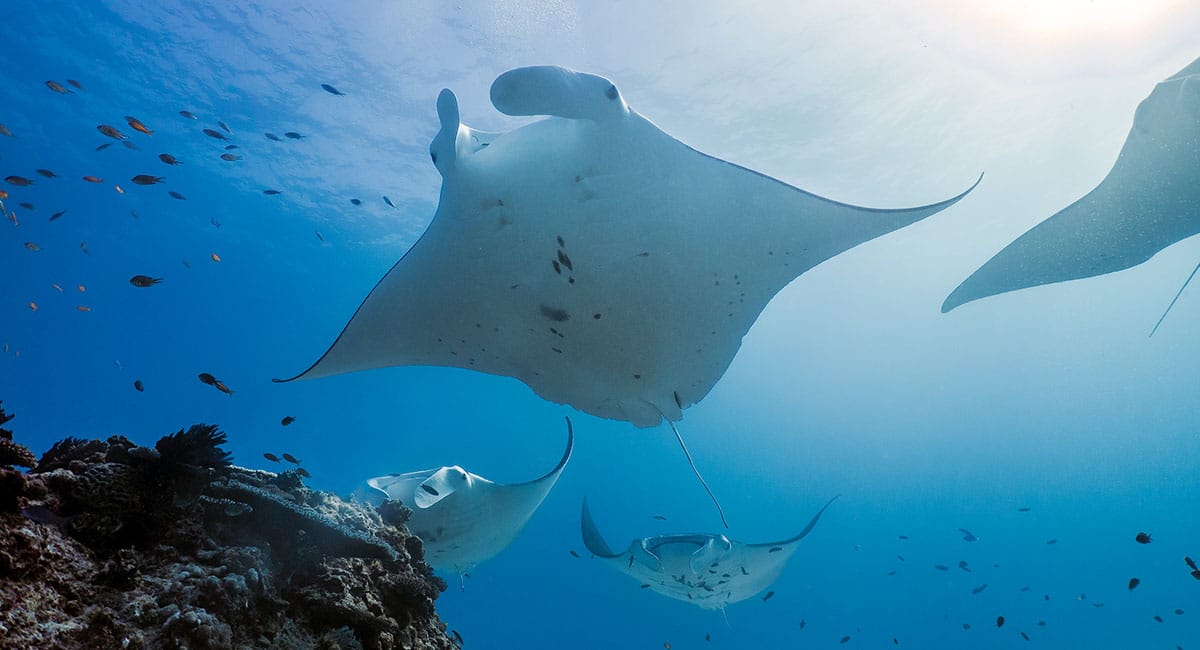 Lady Elliot Island is known as the home of the manta ray. Source: Supplied
Getting to Lady Elliot Island
Being the closest access to the reef for Sunshine Coast families, getting to Lady Elliot Island is easy! We drove to Hervey Bay and took a scenic 40-minute flight to the island.
The scenic flight is a highlight of every visitor's Lady Elliot Island experience. It provides a birds-eye view of the reef as part of the visit to this unique island paradise.
Flights are all organised by the Lady Elliot Island reservations team when you book your trip, so there's nothing to do other than park the car and jump on board.
For those in Brisbane, you can fly straight from Redcliffe Aerodrome, the flight takes approximately 80 minutes. If you're wanting to visit Lady Elliot Island from the Gold Coast, the scenic flight from Coolangatta takes approximately 2 hours.
Things to see and do on Lady Elliot Island with kids
Lady Elliot Island has plenty of things for families to see and do during your stay.
The eco resort has a dedicated activities team, hosting a range of free guided activities and tours. Choose from an island discovery tour, bird watching tour, historical tour, island survival tour, fish feeding and a turtle trek (seasonal).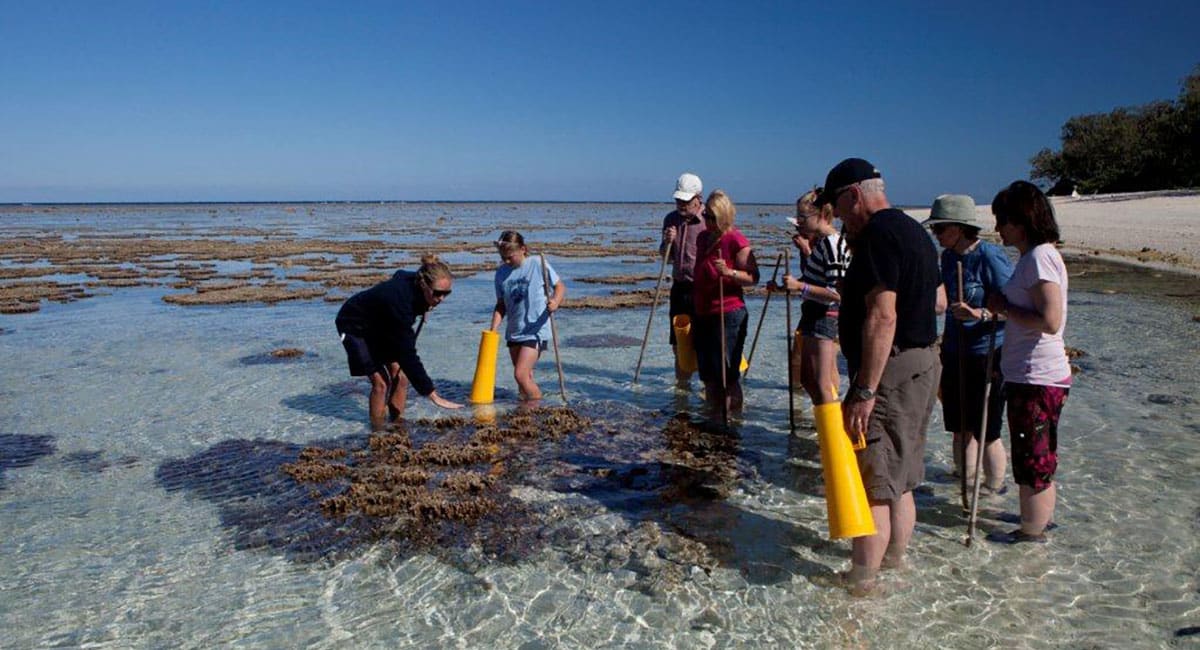 A reef tour at Lady Elliot Island. Source: Supplied
Snorkelling and diving the Great Barrier Reef
Snorkelling and diving is a great way to get up close and personal with the amazing marine life and explore the wonders of the Southern Great Barrier Reef.
The snorkelling at Lady Elliot Island is incredible. It's also perfect for kids. The reef  is easily accessible straight off the beaches of the island.
Need help getting started? Join one of the resort's free daily snorkel trails!
Lonely Planet voted Lady Elliot Island number 2 of the '7 best beaches for snorkelling around the world' in 2020, and it's clear as to why.
If you like to dive, Lady Elliot Island has plenty of diving options; there are 20 incredible dive sites around the island. The resort's experienced dive staff personally escort all dives, scheduling a minimum of two dives per day and optional night dives, subject to numbers and weather. It caters for all experience levels.
The eco resort also offers kayaks, glass bottom boat tours, reef walking, snorkel safaris and a sunset cruise.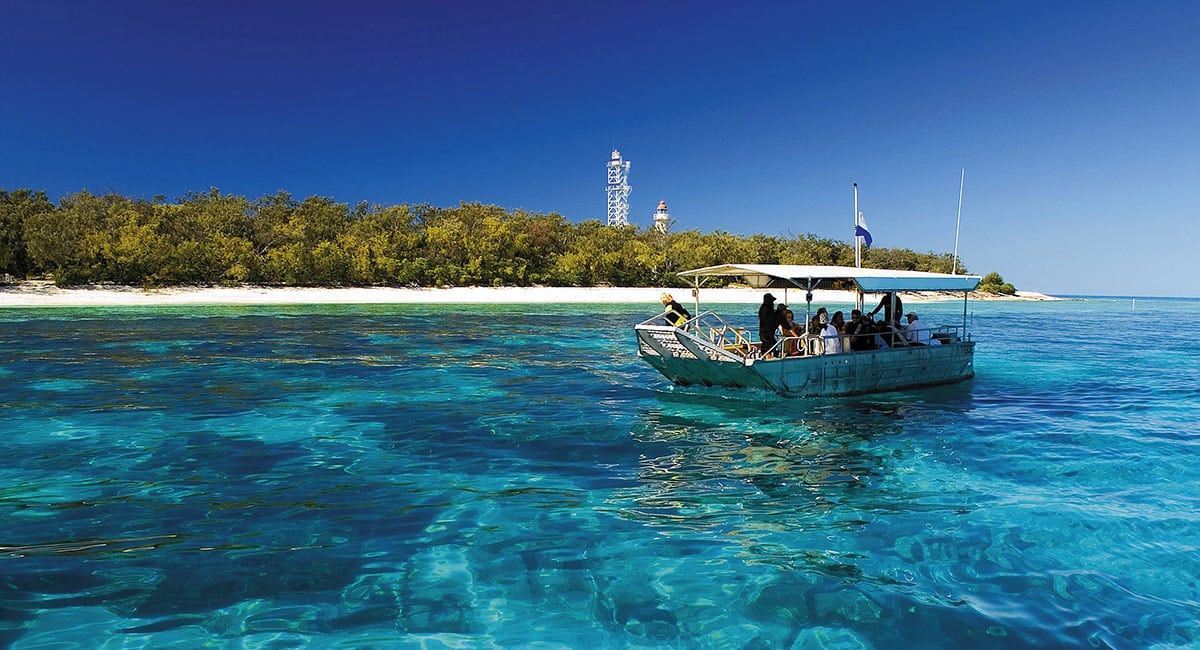 A glass bottom boat tour is a wonderful way for kids to explore the pristine waters of the Great Barrier Reef. Source: Supplied
Family accommodation on Lady Elliot Island
Lady Elliot Island has a range of accommodation options for families. All accommodation at the eco resort is designed to minimise impact on the island, fitting with the resort's impeccable sustainability policy.
Its two-bedroom beachfront units offer absolute beach frontage. These stylish units accommodate up to four people and feature a separate air-conditioned lounge room and private bathroom.
The reef units are ideal for couples or families. They sleep two or four with either a queen bed or a combination of a queen and bunk-style beds.
Also great for families are the eco cabins. They feature louvres for maximum air flow, a large front glass sliding door and shared bathroom facilities. These cabins sleep up to four adults. There is one family cabin that sleeps up to five adults.
If the kids are a little older and you are happy to split across two tents, the glamping tents are gorgeous. Situated only metres from the lagoon and set amongst native coral cay vegetation, each tent has an en suite bathroom, mini fridge, and tea and coffee making facilities. Open up the glass sliding door to immerse yourself in the flora and fauna of the island, including nesting seabirds and turtles (in season). The glamping tents accommodate up to two adults (queen bed).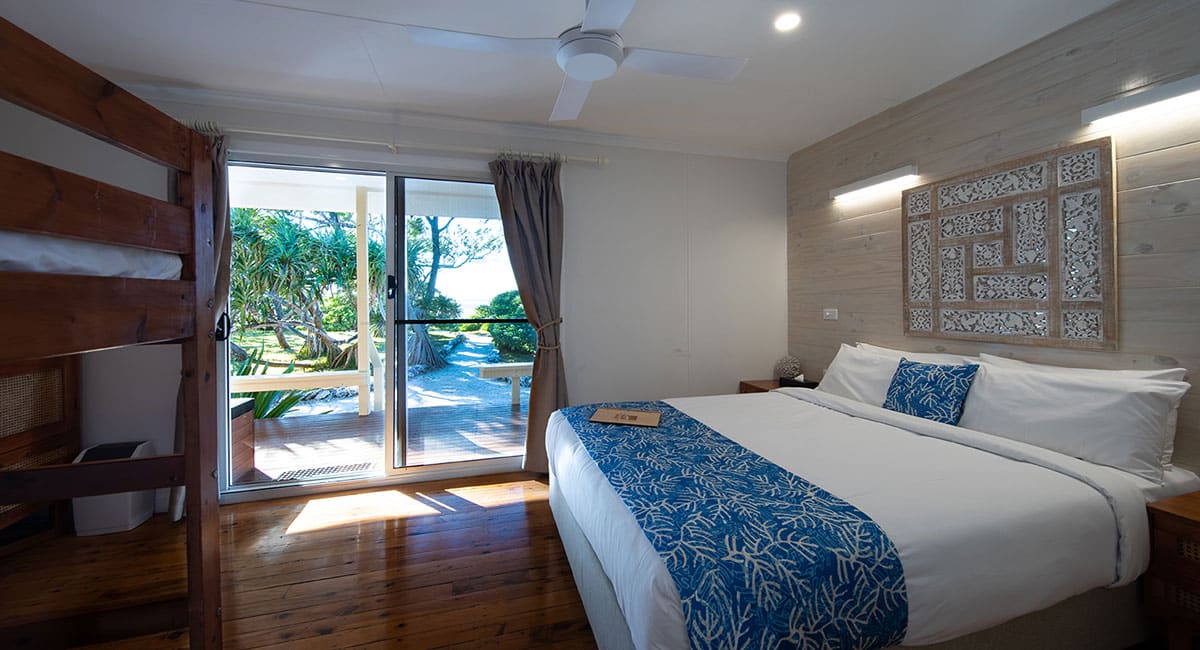 The reef units at Lady Elliot Island are perfect for families. Source: Supplied
What we love most
It's the combination all the little things that makes Lady Elliot Island such a fabulous family-friendly destination.
The pristine waters are stunning, the resort itself is everything you could want – sustainable and comfortable. The scenic flight is something everyone should experience.
The opportunity to truly switch off — there are no telephones, televisions, radios or Wi-Fi available in the rooms — ensures you can embrace the experiences. (The restaurant has limited Wi-Fi.) With so much serenity and plenty of nature-based activities to connect with, you won't even miss being disconnected from devices.
The fact you can snorkel straight off the beach onto the reef is a sure winner. It means the kids can access this natural wonder of the Great Barrier Reef in a safe way.
All bundled up, it's an amazing experience for the whole family, and something you are all sure to enjoy together.
---
You might also like…
5 Amazing Aussie glamping spots for families
A family guide to K'gari (Fraser Island)