Brisbane Festival returns in 2023 with a program that promises connection, community, complexity, and joy in a city-wide celebration of arts, culture, and live performance from 1 – 23 September.
Brisbane's premier arts venues and some of the city's most iconic locations will stage more than 1000 performances – 230 of which are free – including 19 world premieres, two Australian premieres and 11 Queensland premieres.
Below is our pick of the must-do kids' shows at the 2023 Brisbane Festival.

Salamandar: 1 – 24 September
Making its world premiere at Brisbane Festival 2023, Salamander is a stunning, large-scale, site-specific dance theatre work by internationally renowned choreographer and director Maxine Doyle and artist and designer Es Devlin, working with composer and sound designer Rachael Dease and leading Queensland artistic company Australasian Dance Collective (ADC).
Salamander transforms a warehouse on the banks of the Brisbane River at Northshore into a futuristic dream-like world, haunted by desperate characters, labyrinths, shifting structures and a flooded landscape.
Eternity, by Circa: 13-16 September
Staged in the hallowed grounds of St John's Anglican Cathedral in the heart of Brisbane City, Eternity creates a communion between Circa's eight-strong ensemble of acrobats and artists and the spellbound audience.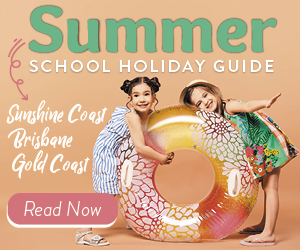 The Making of Pinocchio: 13-16 September
International festival hit The Making of Pinocchio (13-16 September) is a profound piece of storytelling; a heartwarming, at-times funny and deeply personal account of gender transition, playing Brisbane Powerhouse.
The Australian premiere and Brisbane Festival exclusive tells an intimate story through an international lens, sparking a deeper conversation about gender identity in all communities and societies.
Lightscape: 1 September – 8 October
After dazzling audiences of all ages across the world, Lightscape – a multi-sensory experience of light, colour and sound – illuminates the City Botanic Gardens from 1 September – 8 October.
The brilliant botanical wonderland features glowing tree canopies, larger-than-life flowers and neon roots bursting from the undergrowth along a 2.5km immersive light trail in the heart of the city.
Riverfire: 1 – 2 September
The skies above Brisbane also come alive on opening weekend with Riverfire by Australian Retirement Trust (2 September) and Nieergoo: Spirit of the Whale, a spectacular, never-before-seen massed drone performance.
The Brisbane-first celestial dance of 400 choreographed drones takes place above the river in front of Queen's Wharf Brisbane, telling a captivating First Nations narrative through beautiful visuals and a mesmerising soundtrack.
All Together Now: 23 September
All Together Now is a raucous and inclusive, free, all-ages celebration of music, dance, fun and frivolity at Brisbane's newest inner-city oasis, Victoria Park.
The cacophonous closing night party also serves as the culmination of the Brisbane Serenades program of free mini-concerts across Brisbane suburbs, amassing thousands of everyday musicians in two big events: 10,000 Kazoos and NOISE.
NOISE partners dancers from leading North Queensland company Dancenorth with 100 local drummers who thump out a scintillating live score in a dynamic community-driven performance. 10000 Kazoos calls everyone to join the "Kazoonity" and help assemble the world's largest and zaniest orchestra, one where no previous musical experience is required.
Brisbane Festival is an initiative of the Queensland Government and Brisbane City Council.
---
Related Stories
Lil' Party Rockers in the house: A new modern dance class for tiny tots in Brisbane
Which are the best schools in Brisbane?
25 best things to do in Brisbane with kids
---