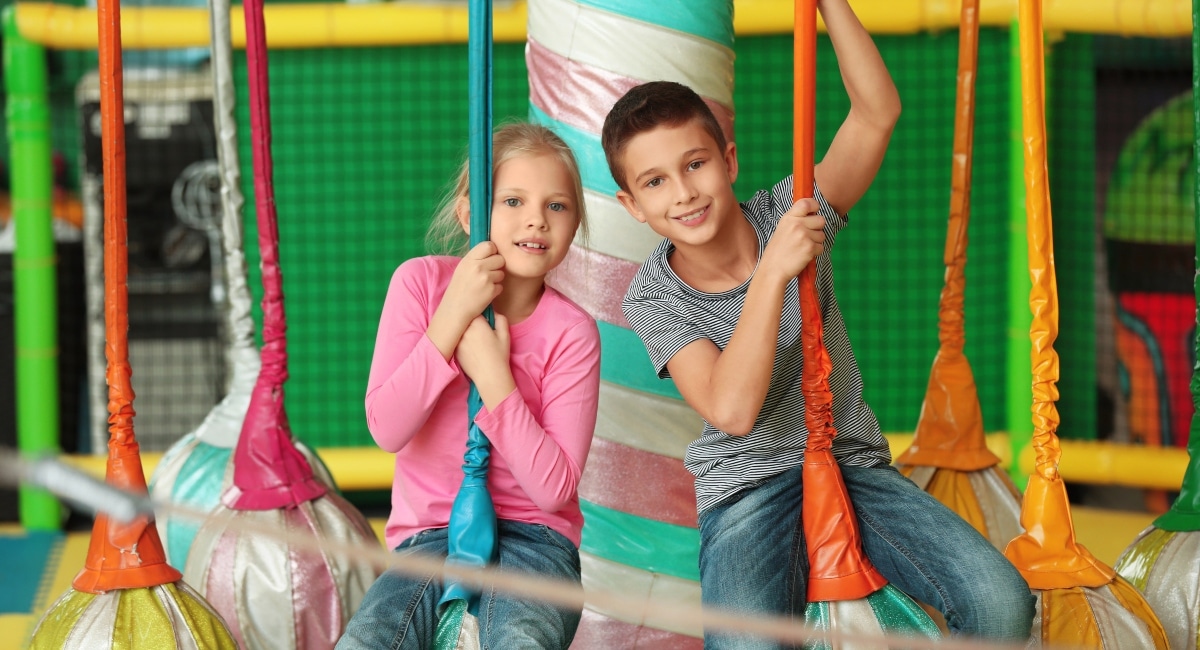 Indoor
The best indoor play centres in and around Brisbane
Let's be honest, south-east Queensland's weather has been somewhat unpredictable recently. There are days where indoor play is either the best or only thing you can do.
If you have a child who's all energy, sometimes getting away from the home is the best answer to help them burn it. Brisbane has a great range of indoor play centres and entertainment facilities, which is really handy!
We've pulled together a list of our favourites, suitable for a range of age groups and budgets. It won't matter if it's pouring with rain or so hot you're sweating from your eyelids, these are the best indoor play centres in and around Brisbane!
Brisbane's best indoor play centres for kids of all ages
Urban Xtreme – Rock Climbing, Ski & Adventure Sports
Urban Xtreme in Hendra is the Number 1 indoor ski and adventure sports park in Brisbane. It's also home for adventure sports and entertainment. You'll find more than 10 awesome activities under one roof, with something for kids of every age, ability or interest.
Challenge yourself on the Ninja Course; free-run in Parkour; shred the indoor slopes; battle it out with your team in Laser Tag; jump high on the Trampolines; duck and dive in Dodgeball; climb to new heights on the Rock Climbing wall; launch yourself into mid-air with Launch Jump, and give the littlest members of the family a big adventure in Playland!
A: 4 / 370 Nudgee Road, Hendra
P: 1300 872 269
W: www.urban-xtreme.com.au
The Jungle Adventure Play
Strap yourself in for the ride of a lifetime! The Hawk is the longest electric flying fox in the Southern Hemisphere and it's landed at The Jungle Adventure Play in Tingalpa. The Hawk is a wild attraction where thrill seekers are strapped into a harnessed chair eight metres up in the air and taken on an electrifying 140m journey at speeds of up to 22km/h through the indoor jungle and outdoors into the elements (even in the rain).
You'll also find an incredible array of indoor play for kids. Check out the Junior Play Zone, the Canopy High Ropes, Tribal Climb climbing walls, a Ninja Warrior course, Rainforest Retreat and Jungle Jump. There is also one of the world's highest DNA slides, two huge lane slides and a two-storey fun-ball battle zone.
A: 31 Propietary Street, Tingalpa
P: 07 3147 8013
W: thejungletribe.com.au
Inflatable World, Darra
Home to the biggest indoor inflatable playgrounds in Australia, there is something for everyone! Littlies will love the Under 5s zone with giant jumping castles and cool stage coach. Older kids can slide, jump and joust with plenty of inflatable activities to choose from. Inflatable World isn't just for children though, the young at heart can bounce and bop until they drop too.
BOUNCE Inc
Grab your family and friends and hop into BOUNCE for a truly unforgettable experience! The ultimate indoor adventure playground, BOUNCE puts the world of action sports within everybody's reach. Its trampolines, padding and air bags provide the perfect setting to develop and practise your freestyle skills. BOUNCE is suitable for all ages, from toddlers up.
A: 544 Kessels Road, Macgregor
P: 07 3569 0704
W: www.bounceinc.com.au
Iceworld, Acacia Ridge and Boondall
Iceworld Olympic Ice Rinks have been part of the Brisbane landscape for more than 30 years. It provides exclusive access to Olympic size ice rinks on the north and south side of Brisbane. Whether you're a beginner or an expert Iceworld will soon be your favourite entertainment venue. Both rinks have a fully stocked skate shop, so no need to panic if you forget your socks or gloves! There is also a cosy coffee shop at both rinks, so if you're beginning to feel the cold, you can enjoy a hot drink and food!
A: 1179 Beaudesert Road, Acacia Ridge
P: 07 3277 7563
W: www.iceworld.com.au
A: 2304 Sandgate Road, Boondall
P: 07 3865 1694
W: www.iceworld.com.au
Laserzone Family Entertainment Centre
Laserzone makes a fantastic all ages escape from the every day – a mega indoor fantasy land with a world class multi-level Laser Tag arena, Driftzone Bumper Cars, Australia's only Jungle Target Gallery Train and a huge prize redemption Video Arcade.
You can purchase the attractions separately, although the best value is to join in on one of the 1-, 2- or 3-hour sessions that Laserzone runs throughout the day and evening. This gives you endless access to the Laser Tag missions, Bumper Cars, Train and the myriad video games from motorbike racing, horse racing, basketball and SEGA adventure games, all at a fixed price.
Children's Art Centre, GOMA
The brilliant Children's Art Centre at GOMA is Australia's only state-of-the-art, purpose-built activity centre within an art gallery. You'll find two floors of exhibition-related multi-media artistic pursuits to keep children (and often teens and adults) occupied for hours. Even if an exhibition is by ticket only, it's always free to access the Children's Art Centre.
A: Gallery of Modern Art, Stanley Place, South Brisbane
P: 07 3840 7303
W: www.qagoma.qld.gov.au/whats-on/kids
Undersea Putt and Play
This epic entertainment precinct is found in Redcliffe. It features an underwater-themed mini-golf course and a games arcade. Mini-golf players can take an underwater journey to the bottom of the sea, with wild and wonderful creatures including sharks, a giant squid, sperm whale, mermaids and pirates. There are more than 30 games in the arcade and there is also an on-site bar and café.
A: Bluewater Square, Sutton Street, Redcliffe
P: 07 3883 4414
W: www.underseaputtandplay.com.au
Chipmunks Playland and Cafe
Chipmunks indoor play centres are practically an institution across Australia. It's a haven for kids and parents alike. There are multiple Chipmunks indoor play centres in Brisbane, catering for kids aged between 1 and 11 years. Dedicated age zones, multi-level playgrounds, interactive equipment and sensory activities are guaranteed to keep your little ones engaged.
Jindalee Jungle
This indoor play centre is located in Brisbane's western suburbs. It's a fun, safe, exciting playground for the kids and there's a café and good coffee being served for the adults. It's the perfect size for toddlers and those aged under 10. There is a fully separate and fenced off baby play area, a toddler area perfect for two to four year olds and a bigger play area for older kids. Each area has plenty of soft play toy options like climbing structures, slides and ball pits. The baby area also has age appropriate ride-ons, baby gyms, swings and small climbing structures.
In addition to the play areas, the centre also has a daily disco.
A: 32 / 160 Sinnamon Road, Jindalee
P: 07 3162 0790
W: www.jindaleejungle.com.au
The Fun Spaceship
Brisbane's newest indoor place centre specialises in indoor fun. It has a climbing wall, maze structure, giant slide and ball guns. Only open on weekends (though private bookings can be arranged) The Fun Spaceship offers excellent value and entertainments.
A: 130 Waller Road, Heritage Park
P: 07 3054 1054
W: funspaceship.com.au
---
You might also like…
The best indoor play centres on the Sunshine Coast
Free activities for kids on the Gold Coast
Written by
Calista Bruschi
When she's not moulding Play-Doh or dancing in the living room with her children, Calista Bruschi is an editor and writer. She has oodles of experience working on newspapers, magazines and websites. Calista likes to organise and be organised. She loves being a mum, Italian food, wine, sport and stationery. She hasn't sleep a full night in more than five years and is powered by coffee.