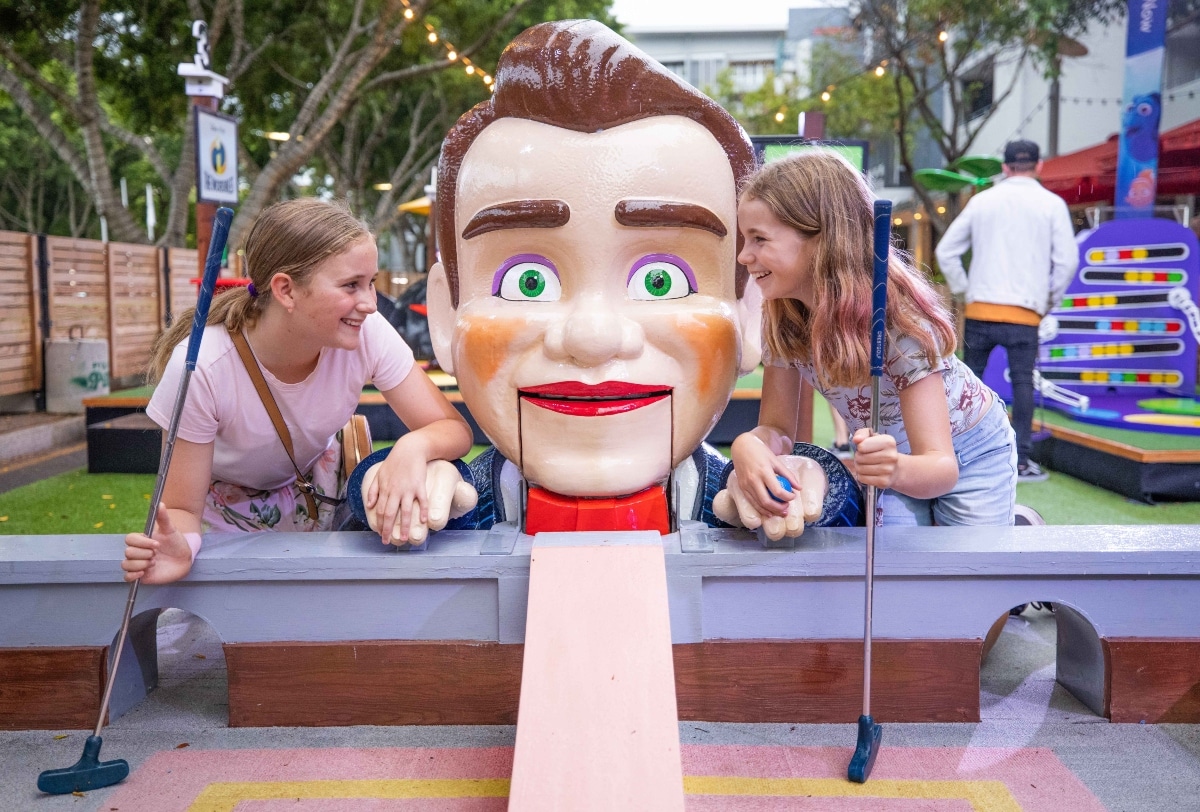 News
A Pixar-themed mini-golf course is popping up in Brisbane this winter
The happiest place on earth is about to 'putt' Brisbane on the Disney map. Everyone's favourite Pixar characters are popping up in Brisbane at a putt putt course inspired by the Disney-owned studio's loveable films.
With school holidays upon us and cooler weather in the air, the par-tee will be at Northshore. Yes, Pixar Putt is coming to Hamilton with its kid (and adult) friendly course located right next to Eat Street Northshore from Friday, June 17 to Sunday, July 24.
Designed to challenge players of all ages, Pixar Putt features nine- and 18-hole courses featuring characters from your favourite Pixar films. You'll see Buzz Lightyear and Sheriff Woody from the Toy Story series. Icons from Monsters Inc., The Incredibles, Coco, Wall-E, Inside Out and Luca get some putt-putt love too! You can save yourself a trip to Disneyland (not such a silly idea given this whole COVID-19 business).
In addition to well-known favourites, there will be two new holes celebrating two new Pixar films — Turning Red and the upcoming Lightyear.
Challenge your friends to a round
Pixar Putt is the must-do attraction this school holidays. All you need is your hat and your enthusiasm.
Dates and times vary, running daily during school holidays from Friday, June 24 through to Sunday, July 10. However, the course will only be open from Thursday to Sunday at other times.
There are also after-dark sessions every Thursday to Sunday night for adults 18 years and older. These sessions operate from 7pm to 10pm, Thursday to Saturday and 7pm to 9pm on Sundays.
If you want to take the kids putt, putt, putting during the day, Pixar Putt opens at 10am.
The finer details
When: Friday, June 17 to Sunday, July 24
Where: Northshore Hamilton, 281 Macarthur Avenue
Price: $19.90 to $39.90
Event Type: Leisure, Sports
Features: School Holidays, Good for Families, Good for Groups, Outdoors
Get more information from the Pixar Putt Australia website.
Written by
Calista Bruschi
When she's not moulding Play-Doh or dancing in the living room with her children, Calista Bruschi is an editor and writer. She has oodles of experience working on newspapers, magazines and websites. Calista likes to organise and be organised. She loves being a mum, Italian food, wine, sport and stationery. She hasn't sleep a full night in more than five years and is powered by coffee.