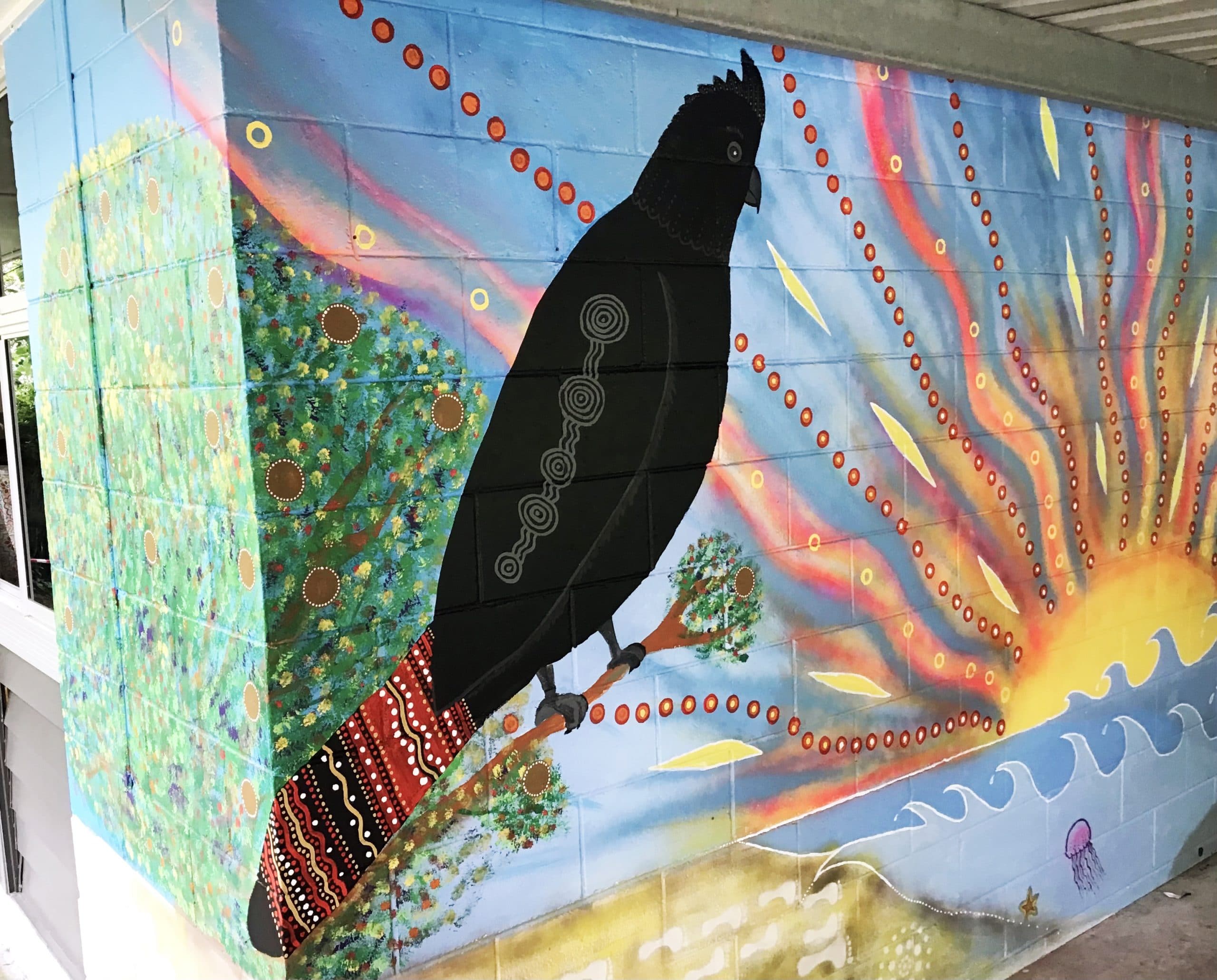 News
Glossy black cockatoo finds a new home at Sunshine Beach State School
The glossy black cockatoo is an icon of environmental protection for Sunrise and Sunshine beaches at the Sunshine Coast. To celebrate this much-loved creature, award-winning indigenous author and artist Gregg Dreise recently created a new mural at the Sunshine Beach State School Prep area.
"I know Sunshine Beach's favourite animal is a glossy red-tailed black cockatoo," Mr Dreise says.
"From there, my mind went to my culture. We always try to make a connection to country in our culture. In my culture, when a singing black, red, black cockatoo, circles us it usually means there's some rain coming."
It poured rain while Mr Dreise was creating the artwork. He says the connection of story to country could not have been more appropriate.
"I thought of it as a perfect way to remind Preps that some days we feel a bit cloudy, some things go wrong, we might be tired," he says.
However, most of the mural has the sunshine coming out of it.
Mr Dreise says he asked the Prep students what letter they were focusing on when he commenced painting the mural.
"It was the letter 'S'. I said, 'Well, that's perfect because I'm going to paint a sky and I'm going to paint some sand on Sunshine Beach. I'm definitely going to paint some sunshine!'"
He says the sunshine represents the students.
"Even on rainy days, that sunshine comes from your most important S word, which is a 'smile', so I've got the sand on Sunshine Beach and a smile comes out of the sunrise."
Indigenous storytelling connect students with country
Gregg Dreise is a busy father of four. He says he wrote his first book for his first-born daughter.
"I just made her a bedtime story, illustrated it and stapled it together," he says. "A few people said I should send it off to get it turned into a book. I'd heard how hard it is to get things published, so I didn't think it would get picked up. But luckily for me it did!"
Since then Mr Dreise has been involved in 18 books, 10 of which he has authored and illustrated.
"My newest book should be out very soon, it's called Where's my Baby?.
"It is a little board book for the younger readers about a cheeky little baby hiding from his mama. She's hopping around, searching for her baby. One is too spiky, one is too feathery and one too much like a human."
Readers will have to buy the book to discover where the mother finds her baby.
Originally from Kamilaroi country, three countries south-west of Gubbi Gubbi, Mr Dreise now lives on Gubbi Gubbi land. His artworks are across the Moreton Bay, Sunshine Coast, Noosa and Gympie regions, including on poles, walls, and benches.
"Kids may not know this, but their library card for the Noosa libraries is by me!"
Mr Dreise has also recently created an unique artwork for wonderful Sunshine Coast Libraries Story Seat trail.
"It was exciting to do my own Story Seat!" he says. "I did that design on Tim the Frog. It is now in Nelson Park, Alexandra Headlands."
---
You might also like…
Brisbane Street Art Festival returns in May with 50 epic new murals
Top Queensland artist creates mural for new Wonderarium at Matthew Flinders
Written by
Angela Sutherland
After spending many years hustling stories on busy editorial desks around the world, Angela is now mum of two little ones and owner/editor at Kids on the Coast / Kids in the City. She is an atrocious cook and loves cutting shapes to 90s dance music.