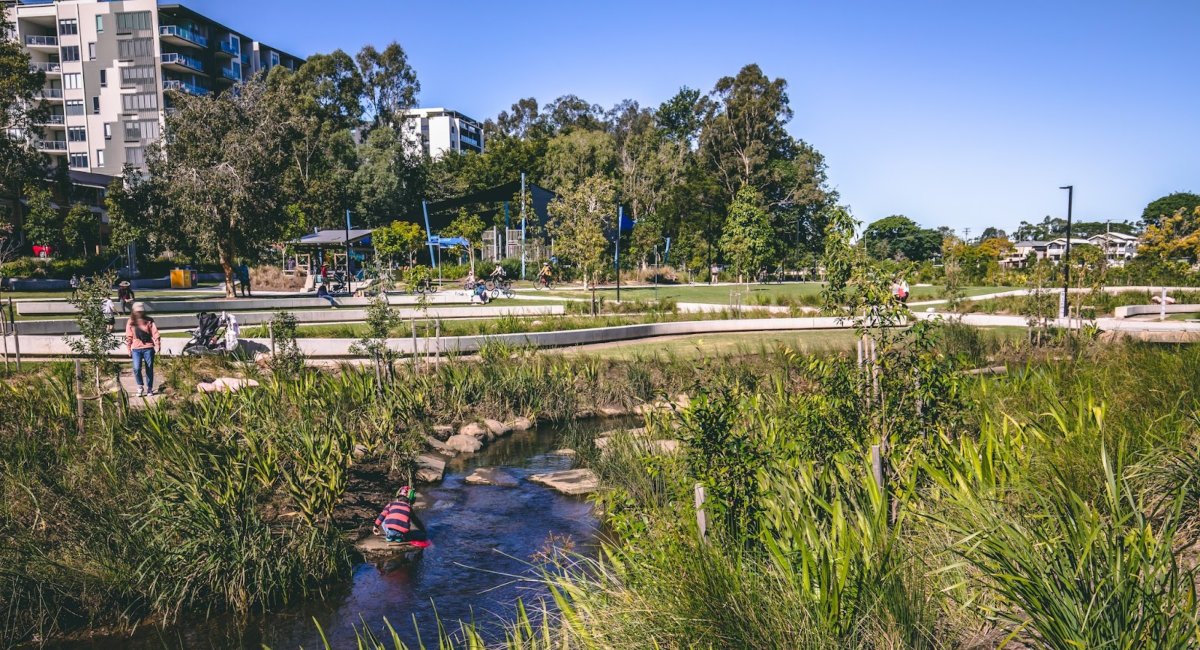 News
Revamped Hanlon Park / Bur'uda at Stones Corner officially ready for play
Brisbane's Stones Corner is not a destination renowned for its green space. However, that's about to change with the official opening of Hanlon Park on Saturday, July 23.
Located between the Stones Corner shops on either side of Norman Creek, Hanlon Park is a large, open green space that has been revitalised. Five hundred metres of concrete channel has been removed and in its place is a natural ecosystem. The Brisbane City Council hopes it will rejuvenate part of Norman Creek.
The park's transformation into an attractive and versatile public space supports the growing Stones Corner Precinct. It contributes to efforts aimed at creating a vibrant urban oasis with more to see and do, especially for families.
What's new in the park
The Hanlon Park  revitalisation forms part of the Norman Creek 2012-2031 Master Plan. The project, which started in mid-2020, has been transforming a 100-year-old concrete drain into a thriving community greenspace with a natural waterway, adventure playground, shared pathways and public art.
A new nature-themed play area just off Lincoln Street and close to the Stones Corner Community Kindergarten will be put to good use by kids. It provides a natural play opportunity for those aged up to 12 years.
Kids will love the climbing tower, sand pit, water pump, swing set, balancing play features and dry creek bed encouraging imaginative play.
Shelter and seating areas are also available.
A new toilet facility is located near the play area. There are also more opportunities to connect Stones Corner to Norman Creek.
Other features include:
a meandering natural waterway that supports native plants and animals
more than 460 new trees and 43,000 shrubs and groundcover plants
public artworks along the waterway representing local flora.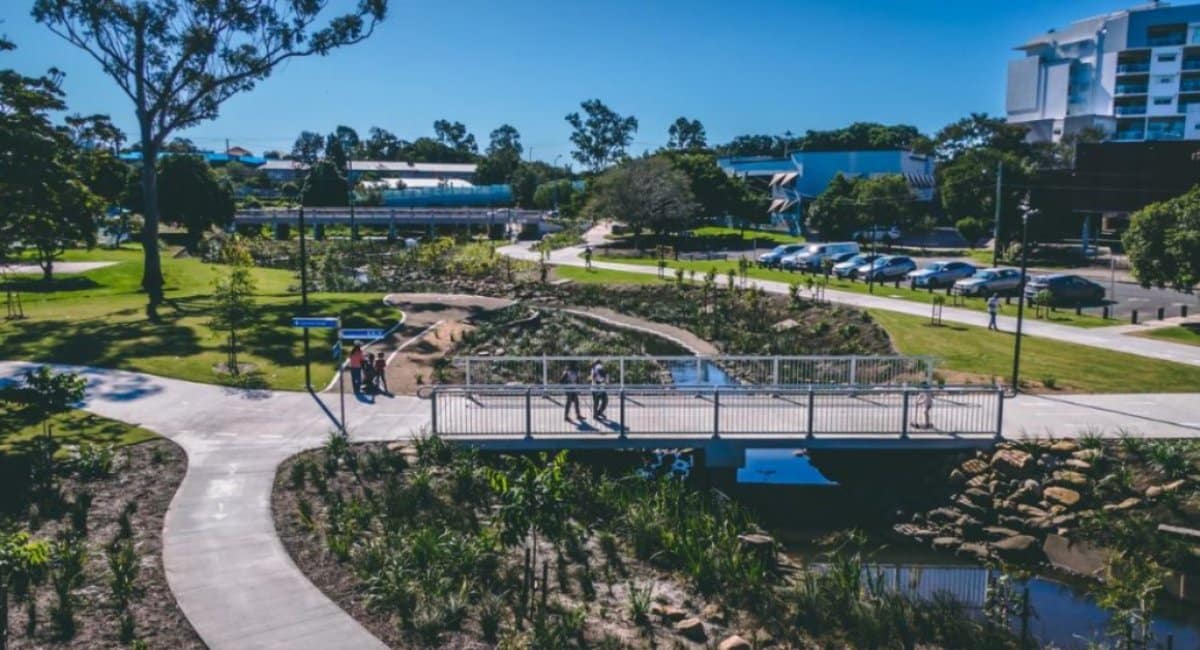 Before the revitalisation project, which has taken more than a year to complete, Hanlon Park was a massive concrete drain. Cr Cunningham says $21.5 million has been invested into the redevelopment and makes it one of the best parks in Brisbane.
Community opening event
Brisbane City councillor Fiona Cunningham and Lord Mayor Adrian Schrinner will officially open Hanlon Park to the community on Saturday, July 23. The park will also be known for its Aboriginal name, Bur'uda, which means Oak Tree Forest. The area around Norman Creek was the source of food and culture for the Aboriginal people.
The event kicks off at 9am with a Welcome to Country, followed by a smoking and dance ceremony. You'll also have the chance to get up close with some native Australian wildlife.
There will be family entertainment, information stalls in some of the areas and a bake sale and barbecue.
---
You might also like…
Brisbane City Council reveals exciting projects for Victoria Park / Barrambin
Jumping for joy! Rocks Riverside Park gets inflatable trampoline
Written by
Calista Bruschi
When she's not moulding Play-Doh or dancing in the living room with her children, Calista Bruschi is an editor and writer. She has oodles of experience working on newspapers, magazines and websites. Calista likes to organise and be organised. She loves being a mum, Italian food, wine, sport and stationery. She hasn't sleep a full night in more than five years and is powered by coffee.