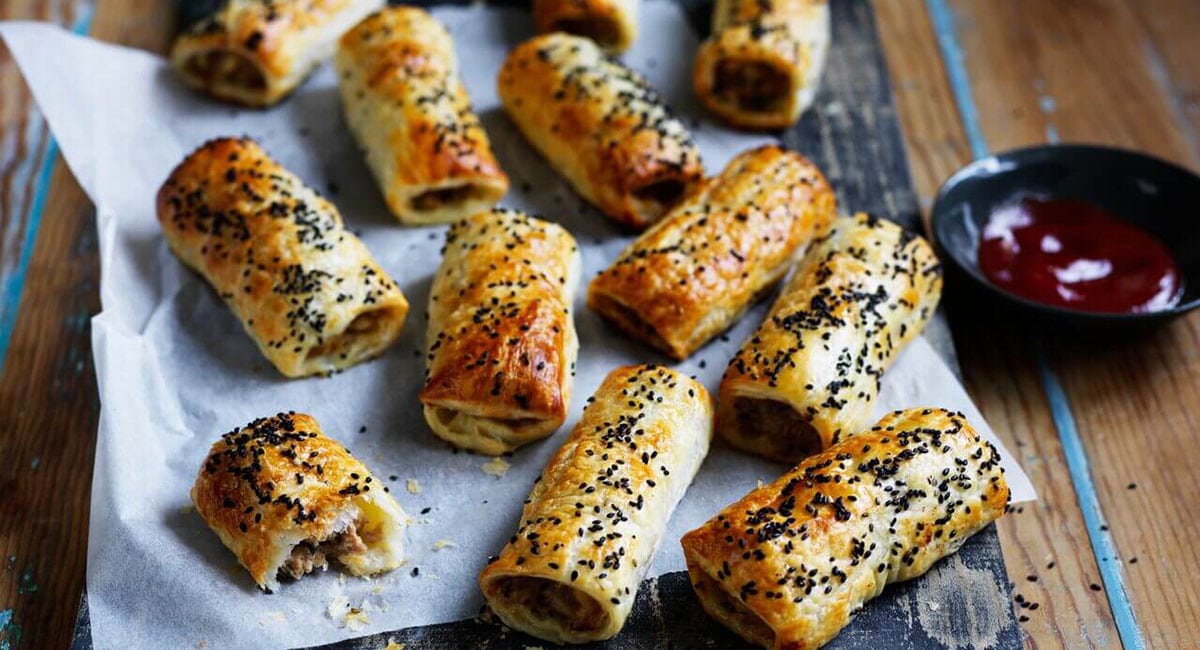 Home & Health
Pork and Apple Sausage Rolls - perfect for lunchboxes
These Pork and Apple Sausage Rolls are perfect for little fingers. Add them cold to a lunchbox or freeze for an easy re-heatable snack.
Makes 24
Prep: 30 mins
Cooking time: 55 mins
INGREDIENTS
6 sheets frozen puff pastry, partially thawed
1 egg, lightly beaten
1 tbs black sesame or poppy seeds
Tomato or barbecue sauce, to serve
Filling
1 tbs olive oil
2 brown onions, peeled, coarsely grated
8 slices thick white bread, crusts removed
¼ cup milk
2 large Granny Smith apples, peeled, cored, coarsely grated
500g sausage mince
500g pork mince
½ cup flat leaf parsley leaves, finely chopped
1 egg, lightly beaten
METHOD
Preheat oven to 200°C fan forced.
Lightly grease two large oven trays
To make filling, heat oil in a medium frying pan over a medium – low heat.
Add onions.
Cook, stirring occasionally, for 5 minutes or until onion is soft.
Set aside to cool 5 minutes.
Meanwhile, tear the bread into small pieces. Place in a large bowl. Pour over milk.
Stand 5 minutes. Squeeze and discard excess milk from the bread. Return bread to the bowl.
Squeeze and discard the excess moisture from apple. Add apples to the bread and onion, mince, parsley and egg.
Season, using your hands to mix well.
Place pastry sheets on a clean surface. Cut in half crossways. Spoon a heaped ½ cup of filling down the long side of each piece of pastry. Roll up to      enclose.
Brush tops with egg.
Sprinkle with seeds.
Cut each roll in half crossways.
Place on oven trays, allowing room between each. Bake 50 minutes. Serve with sauce.
Tip: Squeezing out excess moisture from apple will ensure the pastry is crisp.
Tip: Partially thawed pastry is much easier to work with than fully thawed pastry. Remove 1 piece at a time from the freezer and stand for 3 – 5 minutes (depending on temperature of the day) on the bench before cutting and rolling.
Tip: Sausage rolls can be frozen at the end step 4 or after cooking. Freeze in an air-tight container for up to two months. Reheat from frozen in a 180°C oven.
Tip: If you are unable to get good quality pork mince, use all sausage mince.
About the author: Passionate about inspiring others to live a healthy and happy life, naturopath and nutritionist Casey-Lee Lyons shares her healthy recipes, free from gluten, dairy and sugar, in a refreshing and simple way. Her easy-to-understand nutrition and lifestyle advice has helped many people improve their health and vitality and to live their healthiest and best life.
To download her free recipe e-book or to browse through hundreds of delicious recipes visit www.livelovenourish.com.au or follow Live Love Nourish on social media: Instagram @livelovenourishaus – Facebook @livelovenourish
---
You may also like…
5 top tips to make a healthy lunchbox IRRESISTIBLE!
Healthy snacks for kids
Thinking outside the (lunch) box
Written by
kidsonthecoast