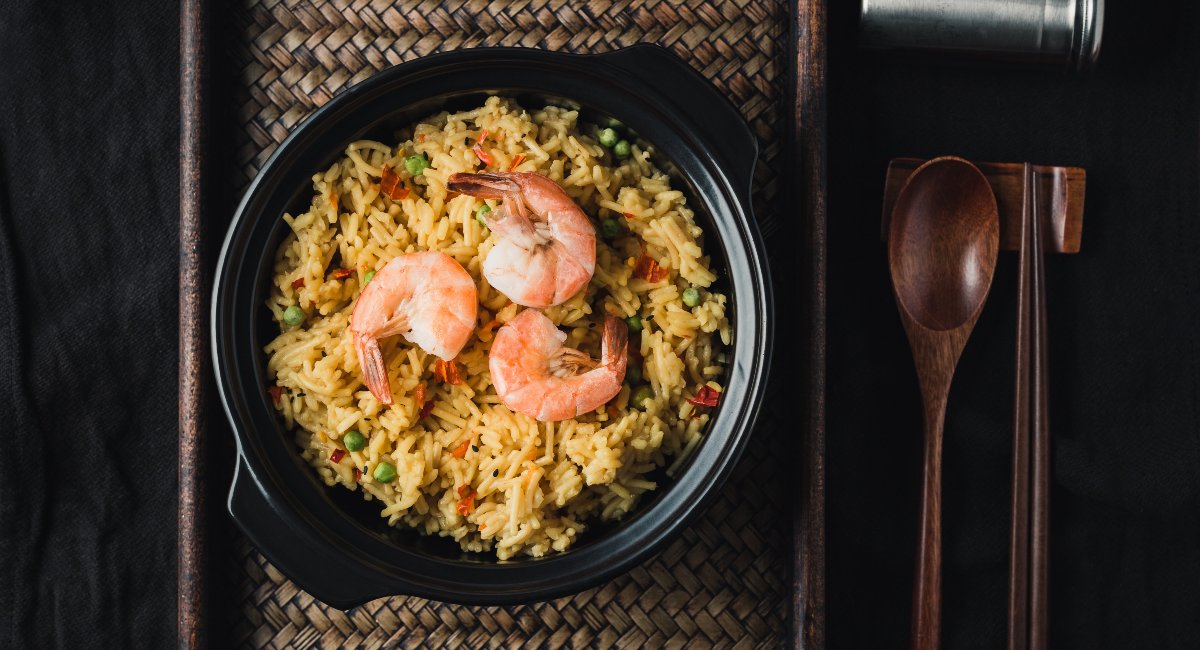 Read
Prawn fried rice
Looking for a quick dinner dish? This Asian-inspired prawn fried rice will be ready in 30 minutes.
It's healthy (just don't tell the kids) and low in calories. Yet, the flavour is epic.
This recipe is the perfect speedy family meal.
Prep time 5 minutes
Cooking time 25 minutes
Serves 4
Ingredients
250g long-grain brown rice
150g frozen peas
2 tbsp rapeseed oil
1 onion, finely chopped
2 garlic cloves, crushed
thumb-sized piece of ginger, finely grated
150g raw king prawns
3 medium eggs, beaten
2 tsp sesame seeds
1 tbsp low-salt soy sauce
1 tbsp rice or white wine vinegar
4 spring onions, trimmed and sliced
Method
Cook the rice following pack instructions. Boil a separate pan of water and blanch peas for 1 minute, then drain and set aside with the rice.
Meanwhile, heat oil in a large non-stick frying pan or wok over a medium heat and fry onion for 10 minutes or until golden brown. Add garlic and ginger and fry for a further minute. Tip in blanched peas and fry for 5 minutes, then the prawns and fry for a further 2 minutes.
Stir rice into the pan then push everything to one side. Pour beaten eggs into the empty side of the pan and stir to scramble them. Fold everything together with the sesame seeds, soy and vinegar, then finish with spring onions scattered over.
Nutritional Information (per serving)
Calories: 418kcal; Fat: 11g; Sodium: 500mg; Carbohydrates: 54g; Fibre: 6g; Sugars: 7g; Protein: 22g.
Written by
Calista Bruschi
When she's not moulding Play-Doh or dancing in the living room with her children, Calista Bruschi is an editor and writer. She has oodles of experience working on newspapers, magazines and websites. Calista likes to organise and be organised. She loves being a mum, Italian food, wine, sport and stationery. She hasn't sleep a full night in more than five years and is powered by coffee.