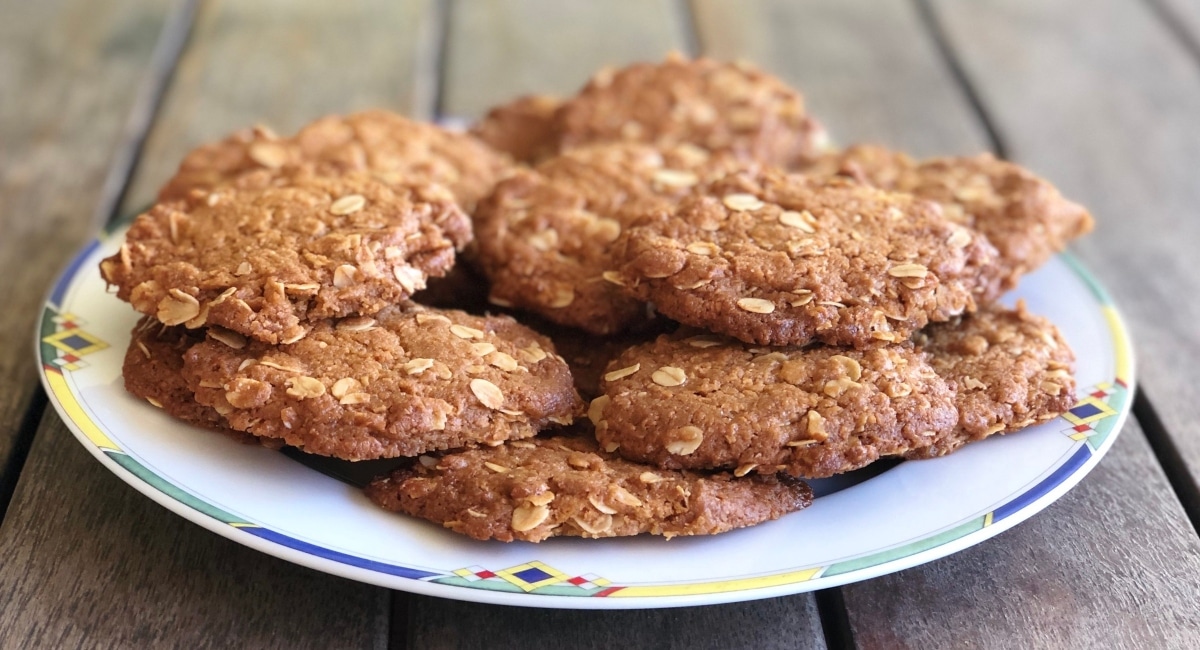 Read
RSL Australia's easy-as Anzac biscuits
For veteran and Paralympian, Curtis McGrath OAM PLY spending time in the kitchen with his trusty sous chefs CeCe and Penny baking the iconic Anzac biscuit was a great way to get into the Anzac Spirit. In their own way, they were able to commemorate the day.
Mr McGrath joins RSL Australia in encouraging Australians to embody the Anzac Spirit — the distinctive qualities of mateship, humour, ingenuity, courage, and endurance. He believes humour is one of the best characteristics of the Anzac Spirit because it allows people to come together and connect.
"There are some key tenants to the Anzac Spirit, but I think all of it comes down to working together and having a laugh," he says.
"Having humour brings people together and gets you through the tough times. It's really special that Australians and New Zealanders have a good sense of humour to get them through."
Mr McGrath says when he's facing challenging times he tries to "chill out". He'll spend time playing with his dog, swim, go to the gym or kayak.
"Being able to have a laugh with my friends helps get me through as well," he says.
The history of Anzac biscuits
Made during the war to raise funds, these chewy or crunchy — depending on your preference — biscuits, were also often sent in care packages to the troops overseas. Without eggs, they kept well making them ideal for the long voyage by sea.
The trusty Anzac biscuit dates back to World War I. It's originally known as an Anzac wafer or tile. With their long-shelf life and heartiness, they were given to soldiers instead of bread. The original tile was pretty unappetising and some soldiers would do anything to make it more appealing, including trying to grind it into porridge. Loved ones back home got wind of the biscuit and came up with a more palatable recipe based on Scottish oatcakes. Anzac biscuits are now enjoyed throughout Australia.
It's possibly one of the easiest biscuits to bake. Follow RSL Australia's easy-as recipe below. Lest We Forget.
Prep time 15-20 minutes
Cooking time 15-20 minutes
Makes 12-15 depending on size
Ingredients
1 cup plain flour

 

1 cup rolled oats

 

1 cup desiccated coconut

 

1 cup brown sugar

 

125g butter

 

1 tbsp golden syrup

 

1 tbsp hot water

 

1 tsp bicarb soda
Method
Preheat oven to 175C.
Combine flour, oats, coconut and sugar in a large bowl. In a saucepan, melt butter and then add golden syrup. Bring to the boil before removing from the stove.
Mix hot water and bicarb soda and add to the butter and syrup. It should froth up. Pour mixture into the dry ingredients and stir together. If the mixture is a little dry, add some water.
T

aking spoonfuls of mixture, roll into balls and place on a greased baking tray, about 5cm apart. Use a fork to flatten the mixture, then put in the oven for 15 minutes or until they're golden brown.

Allow to cool on the baking tray for 5 minutes, then move to a rack to cool completely.
Nutritional Information (per serving, 72g)
Calories: 305kcal; Protein: 3.6g; Fat: 15.5g; Carbs: 36.8g; Sugar: 16.4g; Fibre: 2.3g
Written by
Calista Bruschi
When she's not moulding Play-Doh or dancing in the living room with her children, Calista Bruschi is an editor and writer. She has oodles of experience working on newspapers, magazines and websites. Calista likes to organise and be organised. She loves being a mum, Italian food, wine, sport and stationery. She hasn't sleep a full night in more than five years and is powered by coffee.