Starting the first day of school in Prep is a daunting time for young children, but let's not forget the challenge of the first day of secondary school. Tweens and teens entering 'high school' can also experience nerves, excitement, questions and bewilderment. It's especially daunting with new school campuses, timetable navigation, laptops and associated software.
Like all Queensland schools, the secondary school journey at Matthew Flinders Anglican College starts in Year 7. Children are 12 to 13 years old.
Head of Secondary School at Flinders, Anita Gibson, says a rigorous orientation program is vital to support new students in experiencing a smooth and positive transition.
"At Flinders, we strive to make Middle School, from Years 7-9, an exciting, caring and empowering place for our students," Mrs Gibson says.
"It's designed as a tailored experience because we recognise that adolescents of this age have the need for independence," she says.
Mrs Gibsons says teaching and learning in the Middle School is designed around the key principles of relationships, agency, mastery and purpose.
"These assist our learners to be engaged, focused and successful," she says.
"The goal is for our students to develop the confidence they need to successfully learn. But it also develops the 21st century skills of collaboration, creativity, critical thinking, character, communication and citizenship."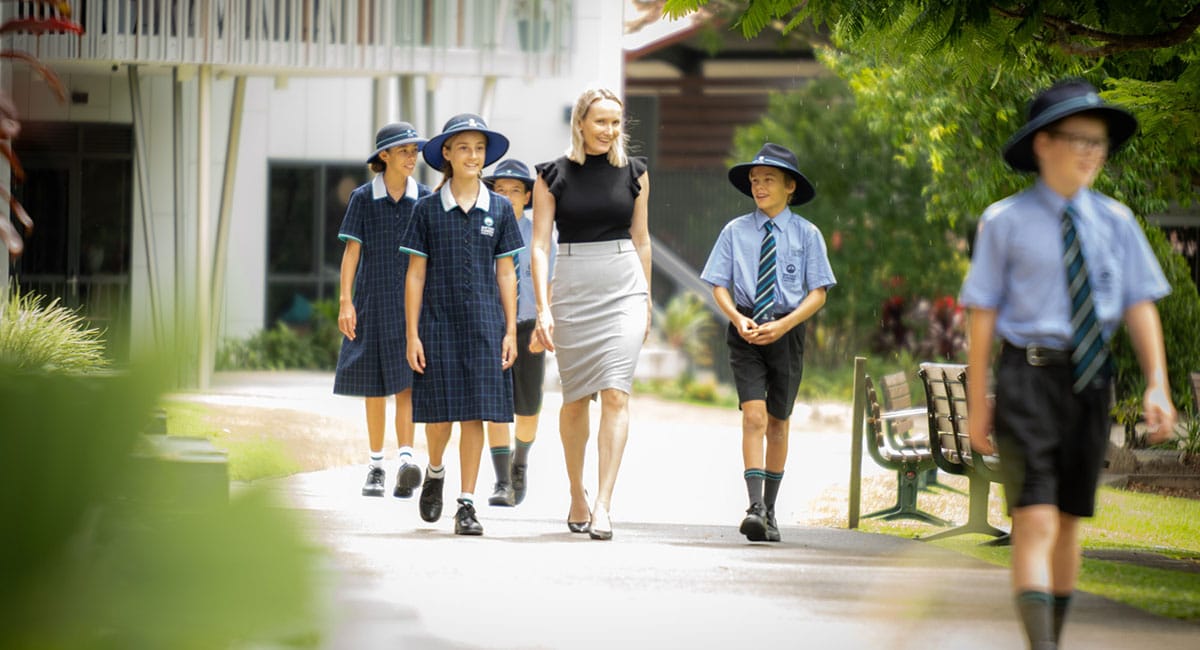 Secondary school students supported at Matthew Flinders Anglican College
Year 7 is a popular intake year at Flinders. More than 30 new students join the College community alongside the large cohort of students who graduate from Year 6 in the Flinders Primary campus.
"Our orientation program begins in the year prior to the start of Year 7, with parent and student information sessions. We also have Orientation Day in Term 4, which is great fun," Mrs Gibson says.
"The Flinders Orientation Day enables students to spend a morning in the secondary school, familiarising themselves with the campus and routines. Our Year 7s also attend an Induction Day in January of Year 7 to help prepare them for the first day of school. It means they can start confidently and without worrying about things like how to turn on their laptops and find their classrooms."
Dedicated Year 7 Precinct to gather and learn
A new, large campus can appear overwhelming for students beginning secondary school. For this reason, Flinders provides a dedicated precinct for its Year 7 students to gather and learn.
The new Year 7 Precinct opened in August 2020 as part of the Flinders Masterplan's suite of new facilities. It features three science laboratories and three general purpose classrooms that can be opened into one large collaborative space. There is also The Hive, a break-out space for students to brainstorm, present, discuss and relax; and The Bungaree Room for student groups to collaborate and for staff to meet in their professional learning teams.
"Our Year 7 students tell us they love their precinct's verandahs, with balcony views of our manicured sports oval and surrounding rainforest," Mrs Gibson says.
"It's important our students and staff can spend time in a light-filled and modern facility that supports their health and wellbeing."
Focus on secondary school students' wellbeing
It's not just new students who benefit from a school's focus on wellbeing and pastoral care.
All students at Matthew Flinders — from Prep to Year 12 — are encouraged to recognise and connect with the support networks around them. Mrs Gibson says this helps them feel seen, heard and cared for.
The Year 7 students get to know peers and staff across all secondary year levels through regular WELL4Life and Learning (wellbeing) events. There are also co-curricular opportunities, which promote fun, connectedness and wellbeing.
From inter-house sports carnivals and skill challenges to health awareness campaigns such as R U OK? Day, charity fundraisers and the annual student-led Flinders Wellness Festival, there is plenty to get involved in.
The College's wellbeing program also weaves wellness into the daily school curriculum and teaches students real world skills, such as how to be a good role model and team player, develop self-esteem, and nurture kind and respectful relationships.
Outdoor education experience encourages connections
In the first term of Year 7,  Flinders students embark on a local adventure camp.
"Our Year 7 camp is one of the most memorable experiences for our students," Mrs Gibson says.
"It's express purpose is for our students to have fun. They also get to know and trust their peers and teachers, and build new friendships.
"It helps our students start their secondary school journey with a feeling of belonging, care and connectedness. Not just to their school, but to each other."
---
You might also like…
Design thinking at Flinders is solving problems with heart
Top Queensland artist creates mural for new Wonderarium at  Flinders
Flinders raises $12,000 for flood-affected Gympie families