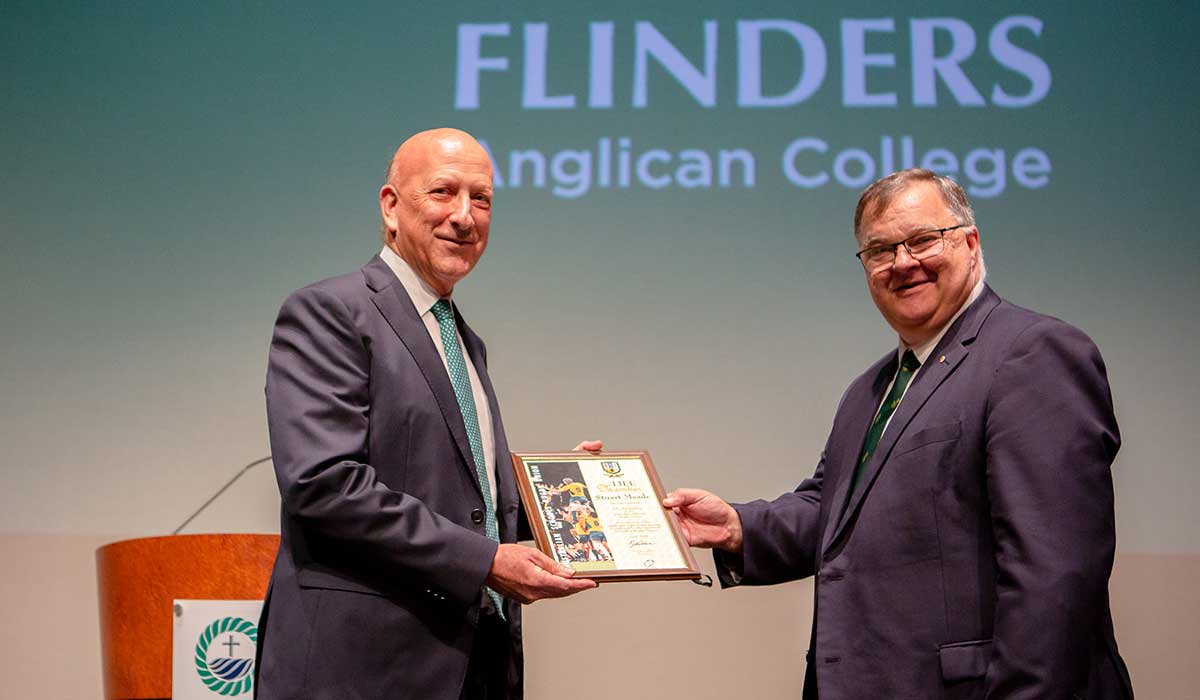 Education
Flinders Principal Stuart Meade honoured as Life Member of the ASRU
To his surprise and delight, Matthew Flinders Anglican College principal Stuart Meade has been honoured as a Life Member of the Australian Schools Rugby Union (ASRU).
Mr Meade was recognised for his three decades of volunteer contribution to young people's development through the ASRU.
ASRU President Kevin Culliver OAM presented the award to the Sunshine Coast principal on Wednesday, April 28 during the school's weekly assembly. More than 800 students and staff witnessed the event.
"You see Mr Meade here at school, but you may not be aware of his magnificent and long history as a volunteer with the Australian Schools Rugby Union," Mr Culliver said.
"My visit today is to invest Mr Meade as a Life Member of the Australian Schools Rugby Union."
Mr Meade's contribution to the ASRU spans 34 years. He first coached the 1st XV of Cranbrook School Sydney in 1987. When he retired in 2021, Mr Meade was the ASRU's vice president.
"This has been an incredible journey of … selfless dedication to the development of our youth through rugby union; a volunteer career of which we are indebted to him," Mr Culliver said.
"Mr Meade has proven beyond question he is worthy of such an honour."
Life Membership is the highest honour an organisation can bestow upon its members.
"I take great pride in and enormous satisfaction from my contribution to the ASRU over the years," Mr Meade said when accepting the Life Member commemorative certificate.
"I hope I have assisted the development of school rugby in some way. It has been a privilege to have been a part of it all."
Mr Meade joins an esteemed group of 23 Life Members recognised for their long-term and dedicated contribution to the ASRU. They include Br Bob Wallace AM, Mr Jim Lucey OAM and Mr Leslie (John) Howard OAM.
Principal leads impressive cohort of Matthew Flinders talents
Mr Meade's ASRU Life Membership aligns with the strong sporting prowess of the school head leads. An impressive cohort of young talents currently participate in the school's Flinders Elite Athlete Program (FEAP).
Now in its second year, the FEAP is a key offering for young, high-achieving athletes. It includes students involved in athletics, basketball, cricket, cross country, hockey, modern pentathlon, netball, rowing, soccer, swimming, surf lifesaving, touch football, triathlon, volleyball, waterpolo, skiing, and — of course — rugby union.
Mr Meade said the program is a valuable support and skills program for students currently enrolled at the school, or planning to attend Flinders.
"Over the years, many students at Flinders have competed as elite athletes at a state and national level. We recognise that exceptional student athletes are often weighed down by the pressure of juggling the competing demands of sport, study and social life for wellbeing," he said.
Former Australian Netball player and World Championship Gold Medallist and Commonwealth Games Silver Medallist, Lauren Nourse is the FEAP director.
---
You may also like…
Flinders raises $12,000 for flood-affected Gympie families
Design thinking at Flinders is solving problems with heart
Top Queensland artist creates mural for new Wonderarium at Matthew Flinders
Written by
Angela Sutherland
After spending many years hustling stories on busy editorial desks around the world, Angela is now mum of two little ones and owner/editor at Kids on the Coast / Kids in the City. She is an atrocious cook and loves cutting shapes to 90s dance music.