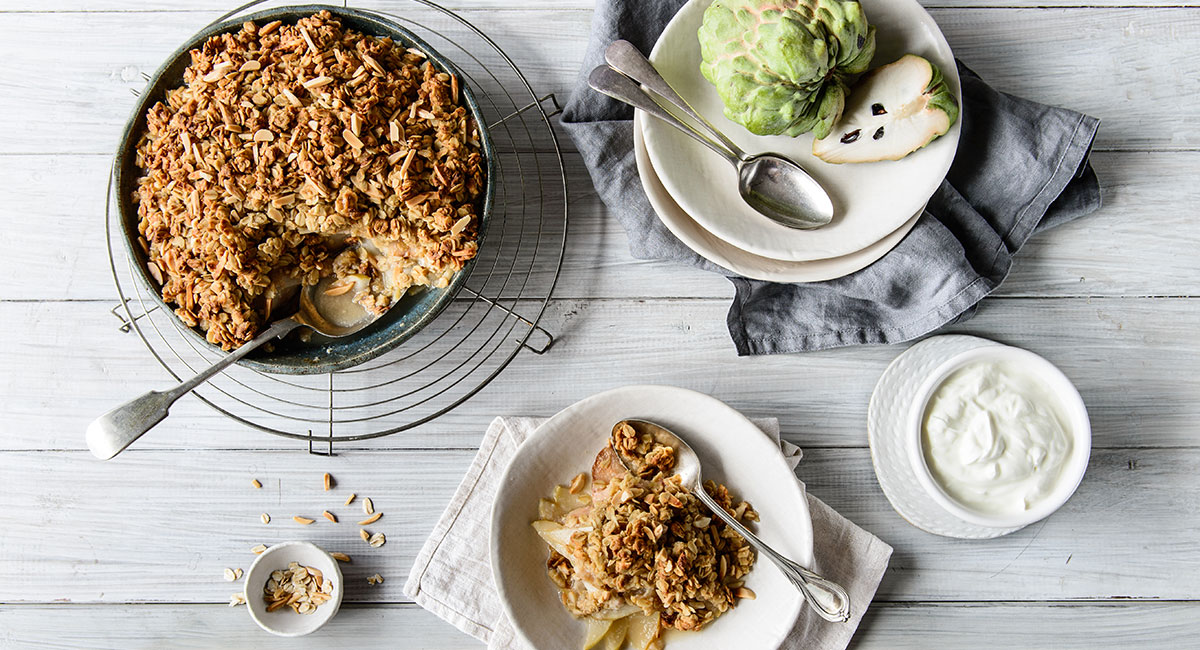 Home & Health
Simple Custard Apple & Pear Crumble… YUMMO!
Those days are starting to get colder, so it's perfect time to start looking for those hearty, healthy, warming recipes. This Custard Apple & Pear Crumble is soooo delicious and SUPER-EASY to make (as if we'd ever share anything else!).
Kids will love it and with a couple of serves of fruit, it's a win-win!
Custard Apple & Pear Crumble
Serves 6 – 8
Ingredients
For the filling
2 medium custard apples
4 ripe pears, peeled, cored & thinly sliced (800 g)
½ tsp ground ginger
¼ tsp sea salt
1 tbsp rapadura or coconut sugar (15 g)
2 tsp lemon juice
For the crumble topping
1½ cups rolled oats
½ cup wholemeal, spelt, or gluten free flour (70 g)
¼ cup slivered almonds (35 g)
¼ cup maple syrup (60 ml)
¼ cup olive oil (60 ml), plus extra for baking dish
Pinch sea salt
Custard apples are also an excellent source of Vitamin C, with one serve containing 64.5mg, or 161% of the daily target for Australian adults, helping to keep your immune system strong throughout the colder seasons.
Method
Preheat oven to 180°C. Lightly brush a standard (22 cm) pie dish with a bit of olive oil.
Scoop custard apple from the skin and remove seeds. Discard seeds and skin. Combine custard apple flesh and sliced pears in a large bowl.
Sprinkle fruit with the ginger, salt, sugar and lemon juice, and toss gently to combine. Tip into the prepared pie plate.
In a medium bowl, combine all crumble topping ingredients and stir until oats are evenly coated. Sprinkle crumble over fruit.
Place the baking dish on a tray to catch any drips and bake crumble for 30 minutes, until fruit is bubbling and topping is golden. Serve warm or at room temperature with a scoop of yoghurt or ice cream.
Did you know? The custard apples crop flourishes in line with the full moon ahead of Easter. It's a unique phenomenon that occurs every year!
For more great recipes head to www.custardapple.com.au and www.facebook.com/custardapplesaustralia
Image credit: www.custardapple.com.au
---
You may also like…
Healthy Zucchini Chocolate Bread for a sweet World Chocolate Day
Healthy Chocolate Brownies
Easy Strawberry Tart Recipe
Written by
kidsonthecoast