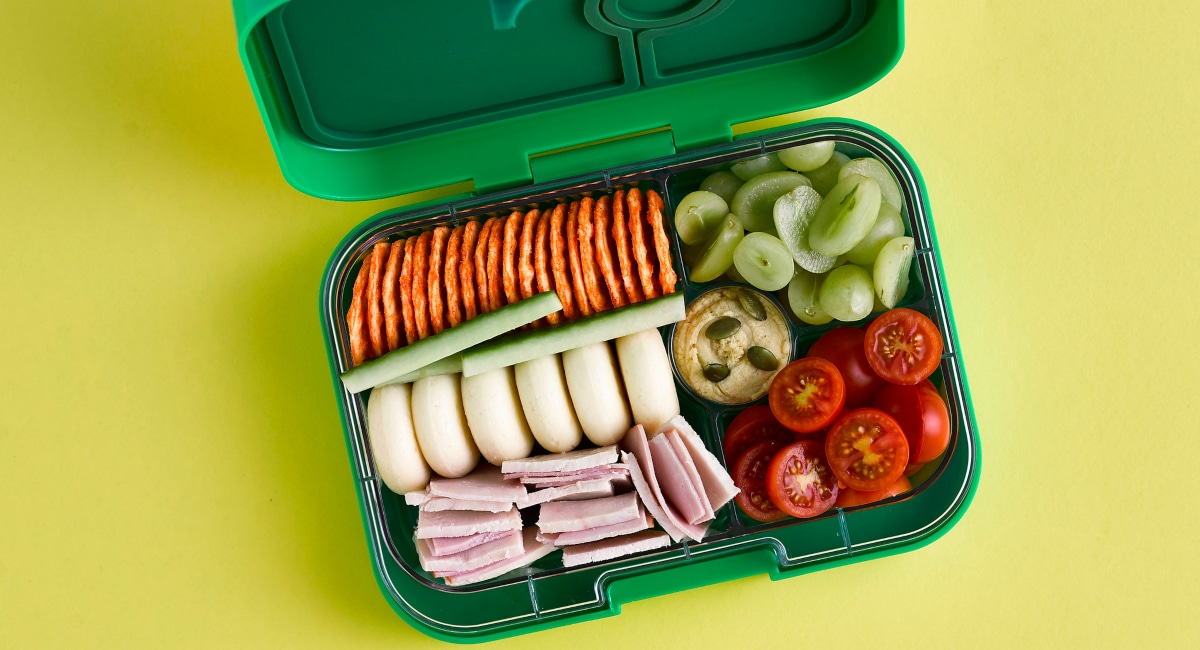 Family Tips
Back to School: The lunchbox inspiration every parent needs
It's back to school (Yay!). These simple, tasty and non-sandwich lunchbox ideas are the ideal way to ease your children into the school term.
We understand summer has been a little stressful this year. Yet, you've ticked almost every item of your Back to School To-Do List. Child's school supplies — check. School uniforms — check. School shoes — check. Is everything labelled — check! Now the focus turns to school lunches. Eek!
You might be feeling a little out of practice, unprepared or even overwhelmed at having to fill lunchboxes. Here are some tips and inspiration to get you back into the swing of things.
Quick tips for a successful school lunch
When it comes to your what goes inside your child's school lunchbox, the plan is for it to return empty at the end of the day. How do you do that?
Easy. One tip is to give your child fruit and vegetables they actually want to eat.
Vegetables like cherry tomatoes, carrot sticks with hummus and celery with cream cheese, or fruits like grapes, apple chips, watermelon, pineapple and mango are all easy school lunchbox ideas.
Check out these recipes:
Another tip is to get your kids involved in what goes into their school lunchbox. They mightn't celebrate the making of lunchbox items, but by involving them in choosing what goes into it your chances of having an empty lunchbox at the end of the day increases.
A final tip is to include foods in the lunchbox that can be eaten on the go. Muffins, pancakes, fritters, scrolls, rolls, pies, and slices all make excellent choices in your child's school lunchbox.
Here are some quick and easy recipes we think you're going to love!
Inspired school lunches
Looking for more school lunchbox inspiration? We've found it! These Instagram accounts are sure to motivate you to lift your lunchbox game this year.
George Georgievski is Australia's school lunchbox dad. He's also the man behind School Lunch Box, and his Instagram account is dedicated to fast, fresh and easy ideas for your child's school lunchbox.
View this post on Instagram
The Organised Housewife, aka Kat Springer, is a Gold Coast-based mum of three. Her blog is a treasure trove of daily tips and ideas to keep the family and home organised. She's a self-confessed lover of charts, checklists and planners, and offers some incredible school lunchbox inspiration on her Facebook and Instagram pages.
View this post on Instagram
Did you know February 6-12, 2022 is Healthy Lunchbox Week? Well it is!
Nutrition Australia is dedicated to providing busy parents with inspiration to encourage healthy eating. You'll find a range of fact sheets and recipes on its website. But if you follow the organisation on Facebook and Instagram you'll also find school lunchbox inspiration.
View this post on Instagram
Healthy Little Foodies is run by Sydney-based mum and childhood nutritionist Amy Whiteford. She understands how difficult and stressful feeding kids can be, which is why she has a range of recipes to inspire not just school lunchboxes but most family meal times.
You can find Healthy Little Foodies on Facebook, Instagram and Pinterest.
View this post on Instagram
Written by
Calista Bruschi
When she's not moulding Play-Doh or dancing in the living room with her children, Calista Bruschi is an editor and writer. She has oodles of experience working on newspapers, magazines and websites. Calista likes to organise and be organised. She loves being a mum, Italian food, wine, sport and stationery. She hasn't sleep a full night in more than five years and is powered by coffee.