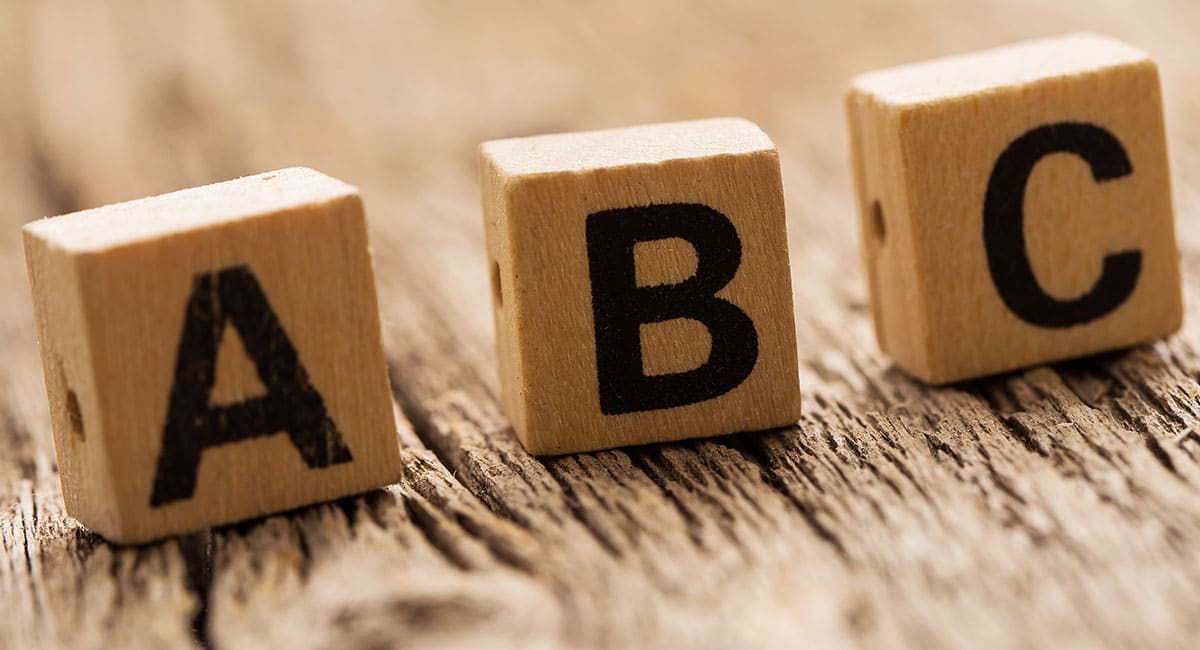 Products
9 AWESOME ABC toys to kickstart your child's alphabet
With these great ABC toys, introducing the shapes and sounds of the alphabet to your little one has never been more fun!
Featuring 36 colourful double-sided tiles, this timeless educational ABC toy from Melissa & Doug is an early-learning essential! The wooden frame includes all the letters of the alphabet as well as the numbers 1 through 10 on one side and gorgeous illustrations on the other. The spinning tiles encourage children to play, explore, and learn.
Suitable for ages 2+ years
Handmade using sustainably sourced timber and painted with non-toxic toddler friendly paints, this beautiful Uncle Goose ABC Blocks & Wagon is a great addition to any toy room.
Younger kids can stack the blocks and use the wagon to tow teddies. As they get older, the blocks are great for early reading and forming basic words.
Suitable for ages 2+ years
One of our favourite ABC toys, this Alphabet Lotto game from Orchard Toys is a fun way to learn the letters of the alphabet. Simple to play, but educational and engaging, try to be the first player to find all the cards that match the letters or pictures on your lotto board. Lightweight and compact it's a perfect ABC toy for a weekend away, or when out to dinner. For 2-5 players.
Suitable for ages: 3+ years
Magic Spelling is a great ABC toy in which you race to find the letters with the magic wand before the timer runs out! The self-checking word cards feature a rub and reveal coating to magically check your answer.
Once you've correctly spelled a word, add a yucky ingredient to your spell book – will you choose a monster's eyeball or the witch's fingers?! The first player to collect all their ingredients and cast their spell wins the game!
This clever spelling game has been designed specifically for teaching spelling to early primary students.
Suitable for ages: 5-7+ years
This stamp set from Melissa & Doug is the perfect way to blend an ABC toy with craft. Packaged in a beautiful wooden box the set includes 56 high-quality rubber stamps with both upper and lower-case letters, along with punctuation marks. Each letter is contoured with wooden handles and the stamp pad offers 4 colours of washable ink: green, orange, red and blue.
Suitable for ages: 4+ years
This Melissa & Doug See and Spell wooden puzzle helps teach letter and picture recognition as well as colour recognition, letter sounds, and fine motor skills. With eight double-sided wooden spelling boards and over 50 wooden letters this early learning kit engages kids for hours, encouraging problem solving and developing beginner spelling skills.
Suitable for ages: 4+ years
This Melissa and Doug wooden alphabet box is filled with 26 two-piece wooden puzzles, pairing upper and lowercase letters with illustrations to match. Each puzzle piece fits only with its correct match, so children can work by themselves to learn letters in a way that's fun and frustration-free.
Suitable for ages: 4+ years
This beautifully crafted set of wooden beads from Melissa & Doug proves that ABC toys can also be super creative. The kit includes over 200 assorted beads in bold letters and colourful shapes with 8 brightly coloured laces. Your little jeweller can create fabulous bracelets and necklaces by threading the beads on the laces. Packed in a handy wooden tray, this delightful craft activity kit develops both creativity and fine motor skills.
Suitable for ages: 4+ years
More than just a sticker book, this fun Melissa and Doug Alphabet Activity Pad features 20 pages of alphabet activities for kids four and older. Kids can colour in letter-themed pictures, Match stickers to letters and pictures, and learn the alphabet by tracing and writing both uppercase and lowercase letters. There are more than 250 stickers to fill the pages, with extra letter stickers included for creative projects. This is the perfect travel, rainy day or quiet activity for kids, take it on the plane, out to dinner and keep the kids happy with hours of creative fun.
Suitable for ages 4+ years
This Word Builder Game version of Zingo from ThinkFun is the perfect confidence booster for early readers and one of the best ABC toys out there! With two levels of play, this game is designed to engage and support both beginner and more experienced readers. Teaching spelling and vocabulary, it is ideal for players who are just learning how to put letters together to form words. Boost academic skills and have tons of fun with the whole family.
Suitable for ages 5+ years
Thanks to Rainbow Fun for the post!
---
You may also like…
12 Sensory Toys for Kids of all Ages
7 AWE-STEM toys for 2020
Chocolate-free Easter toys
10 AWESOME toys for open-ended play
Written by
Angela Sutherland
After spending many years hustling stories on busy editorial desks around the world, Angela is now mum of two little ones and owner/editor at Kids on the Coast / Kids in the City. She is an atrocious cook and loves cutting shapes to 90s dance music.